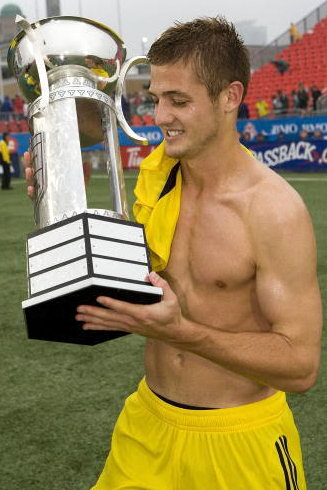 "I started feeling very different and it was a case of, 'All right, I'm good at football and I get attention from girls. Why don't I want that? What's wrong with me?' I realised I was gay when I was 14 or 15. I was like, 'I want to play football. But there are no gay footballers. What am I going to do?'

"You feel such an outcast. I just couldn't tell anyone because high school in the States is brutal. You're going through puberty and kids can be vicious. I was lucky my older sisters were cool people and I was the football guy. All these things made it easier to mask myself. But it was also difficult. You have girls coming on to you and you're like, 'Shit, it would be a lot easier if they weren't interested and I could just play football.' I kept saying: 'I can't go out because I have training today or a match tomorrow.'"
From a compelling, exclusive interview by the UK newspaper, The Guardian, with English football player Robbie Rogers, who came out in February and immediately retired from the game. Prior to playing for Britain's Leeds United team, Rogers played for Major League Soccer's Columbus Crew. He also played for Team USA in the 2007 FIFA World Cup Tournament. An American whose upbringing was Christian conservative, Rogers is only the second gay footballer in British history to come out in public. On his website, he wrote, "Secrets can cause so much internal damage. People love to preach about honesty, how honesty is so plain and simple. Try explaining to your loved ones after 25 years you are gay. Try convincing yourself that your creator has the most wonderful purpose for you even though you were taught differently."
During the interview, Rogers clarified his decision to leave the game behind.

"I was just fearful. I was very fearful how my team-mates were going to react. Was it going to change them? Even though I'd still be the same person would it change the way they acted towards me — when we were in the dressing room or the bus?"
When asked if he had considered staying, he responded:
"I've thought about that. I might be strong enough but I don't know if that's really what I want. I'd just want to be a footballer. I wouldn't want to deal with the circus. Are people coming to see you because you're gay? Would I want to do interviews every day, where people are asking: 'So you're taking showers with guys — how's that?'

"If you're playing well it will be reported as: 'The gay footballer is playing well.' And if you have a bad game it'll be: 'Aw, that gay dude … he's struggling because he's gay.' Fuck it. I don't want to mess with that."
He also noted that he does not know of any other gay football players.
"One of my best friends said: 'Do we know anyone else in football who could possibly be gay?' And we couldn't think of anyone. We're such great actors because we're afraid to let people know who we are. We've been trained by our agents how to do interviews, how to present ourselves. No footballer has since said to me, 'Robbie, thank you, I'm gay too…' I don't know if anyone will."
(Source: The Guardian)