It's no surprise that Synetic would turn its hand (and bodies) to The Tempest as one of its Silent Shakespeare series. The dreamy, island-bound narrative, in which an alternately wrathful and forgiving Prospero, with the aid of his spirit servant Ariel, grapples with various shipwrecked and endemic enemies, is ideal territory for their edgy and innovative physical theater. But even with that, the company has outdone itself.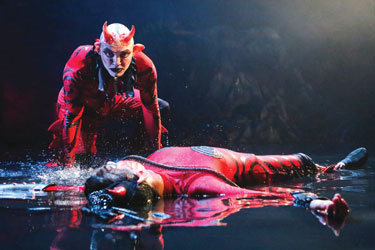 The Tempest
(Photo by Johnny Shryock)
It starts with Anastasia R. Simes's set, which, combined with an accomplished synthesis of light, sound and physical design, evokes a gloomy cove on Prospero's adoptive island. With the sensually intense sea sounds and music of Konstantine Lortkipanidze and Irakli Kavsadze and the rich and volatile changes in light of Andrew F. Griffin and Riki Kim, the dark and echoey moods of the cove are powerfully palpable, but also the violence of storms and the windswept wilds of the unseen island with its forests and rocky outcrops. Yet even as an unforgiving Nature is wielded by Prospero, so her island children, in Simes's striking costumes, suggest a strange, ambivalent, magic. Add the bold, cleverly conceptualized and executed presence of live water, and there arrives a whole new dimension to this beautifully conjured world. Such are the "textural" innovations that are the hallmark of the fearlessly imaginative Synetic, modest budgets be damned.
Yet it is, without doubt, a choreographer's challenge, for a careless reading of the waterworks might easily blight the potency of traditional storytelling, especially with house ponchos offered, water-ride style, to the first few rows. But there is no danger of that here, for even when the characters knowingly share the fun, Irina Tsikurishvili sees the water as partner to her dancers, not gimmick. Thus, each watery arc, every splashy dash of mayhem and even the most delicate of trickles come from a consciously crafted marriage of physics and art. Her choices are subtle, intelligent and always potent — even when they refuse to take themselves too seriously.
With adaptor Nathan Weinberger's carefully modified telling, director Paata Tsikurishvili captures and paces with careful emphasis Shakespeare's tale. His weaving of water, real and imagined, invests this interpretation with a gratifying symbolism that goes from intangible to tangible and back again. It creates atmosphere, but it also tells of bonds broken, made and repaired. And when, for example, a ship sinks off the island's coast, the coupling of Paata's sense of narrative with Irina's dreamlike bodies caught in a viscous sea, the Tsikurishvili's create theater that is stunning and memorable.
A compellingly authoritative Prospero, Philip Fletcher's ability to offer more than the darkly demonic (which he does so well) is nicely demonstrated. Working hard to bring convincing cohesion to a character who pinches and pets with the wrath of a mercurial Greek god, Fletcher delivers a man with a driven, feverish gaze. That there is an inner-life, there is no doubt. But the interesting question remains: Who commands it, Prospero or the island and its wayward magic? Always a uniquely impressive dancer, Fletcher uses his sinewy limbs to draw powerful arcs and circles over and above island and water as he moves.
In interesting counterpoint are the long lines of Irina Kavsadze, in the role of Miranda, Prospero's daughter. Here an unprepossessing presence, she moves with a willowy softness suggestive of fronds caught in gentle currents of water. But Kavsadze draws an interesting complexity from her young woman; she is quietly girlishness but also touched with mystery and strength. And, thanks to Synetic's refusal to be bound by ballet's conventions, her later pas de deux with beau Ferdinand is beautiful not just for the gentle binding and unbinding of their bodies, but for the graceful and remarkable length of her body against his.
Offering the comic turn, are Irakli Kavsadze as Stephano and Emily Whitworth as Trinculo (played as a washer woman). Paired well, they nicely mix the clownish with the clever with just enough interpretative license to keep it more quirky than toe-curling (especially for those who find slapstick only slightly less loathsome than a root canal). As Prospero's erstwhile enemies, Antonia (a woman here), Alonso and Sebastian, shipwrecked on the island and at the mercy of the elements and Prospero's magic, Francesca Jandasek, Pasquale Guiducci and Ryan Tumulty offer distinct and credible characters. Jandasek in particular, shows a strong sense of storytelling via movement. As Ferdinand, Scott Brown offers an attractively chivalrous catch and some gorgeous, nicely understated, dancing.
THE TEMPEST




To March 24
$40-$55
synetictheater.org
800-494-8497
But the real standouts here are Dan Istrate as the mischievous but loyal Ariel and Vato Tsikurishvili as Caliban, the island creature who convinces Stephano and Trinculo to join him in an attempt to overthrow Prospero. In a skin of silvery ruffles and a body that curls and curves like the waves, Istrate's Ariel is something sweet and slightly sinister; the embodiment of Synetic's island mystery. Truly making Caliban his own, Tsikurishvili delivers his usual brand of exhilarating physicality along with a newly dimensional expressiveness. Often in comic roles, Tsikurishvili shows he has far more to offer.
And although they may never speak, all of these players and the world they create must answer the same question as any interpretation of Shakespeare: Is there now another way to see, feel and think about The Tempest? The answer here is a resounding Yes.