Having West Wing withdrawal? House of Cards DTs? Richard Schiff has the answer for you. It's called Chasing the Hill, and it's a political Web series the former West Wing star serves as an executive producer for and appears in. The drama concerns the re-election campaign of a California representative (Deadwood's Robin Weigert) trying to hang on to her seat.
Three episodes have been produced so far, and are priced at only $1.99 each, or, as Schiff laughs, "the cost of half a cup of coffee" (by Starbucks standards). Schiff calls the series "a labor of love," reminding him of his early days in theater where people would produce plays "in a church basement somewhere in lower Manhattan." Mostly, Schiff loves the unbridled creativity and freedom.
"You don't need the endorsement and the money of corporate-run studios," says the actor. "We are able to create something out of nothing without the people on Olympus dictating to us how and when and why it should be done."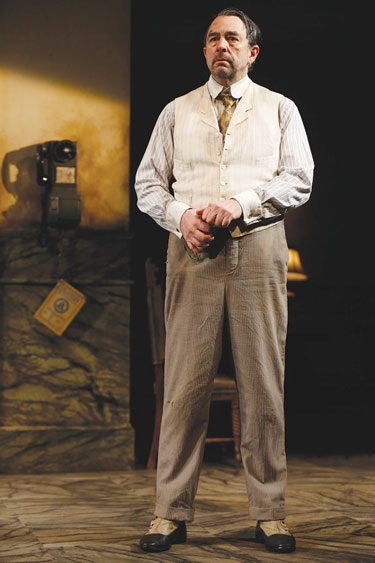 Schiff in "Hughie"
(Photo by Carol Rosegg)
Currently, Schiff is wrapping a run at the Shakespeare Theatre Company, where he's starring in the Eugene O'Neill one-act, Hughie, in which he masterfully portrays Erie Smith, a self-delusional gambler and instantly recognizable O'Neill tragic figure. The show is potent but challenging.
"It's a very tough hour to watch this guy kind of lost in his self-delusion," concedes Schiff. "[O'Neill] wrote about people with pipe dreams and people who deluded themselves and hid behind the bottle and couldn't take the pain of living a life."
Schiff, who will appear in this summer's new Superman movie, Man of Steel, as Dr. Emil Hamilton, is nationally beloved for his Emmy-winning role of press secretary Toby Zeigler on The West Wing. "I was very concerned about being on one TV show for so long," he says of his initial involvement, "not even knowing that these characters were going to become iconic." He's grateful the series is now available on Netflix streaming and finding new fans. "I enjoy it a lot more now than I did back in the day. That's a good feeling." He pauses, and chuckles.
"Toby will be on my tombstone."
Richard Schiff stars in Hughie through Sunday, March 17, at The Lansburgh Theatre, 450 7th St. NW. Call 202-547-1122 or visit shakespearetheatre.org. Watch Chasing the Hill at chasingthehill.com. And follow Schiff on Twitter at @richard_schiff.