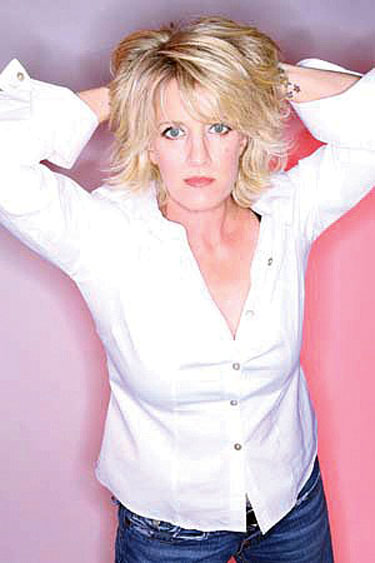 Suzanne Westenhoefer
(Photo by Adam Bouska)
MW: Do you have a partner at home?
WESTENHOEFER: I would prefer not to discuss that right now. [Laughs.] You can Google all that horror.
MW: Well, although you don't have children of your own, childbirth is another health-related issue that has become a bit more prominent in the LGBT community in recent years.
WESTENHOEFER: Oh my God, yeah. I'm old-school: no kids, no marriage. '
MW: You must have friends that do.
WESTENHOEFER: I actually do. On the block right north of me, most of my lesbian friends up there have children, and they all had them at the same time, so they're all turning like 13 right now.
I live on the block with all the gay men who don't have children. It's better for everyone.
MW: The past couple years have also witnessed an uptick in conservative efforts, including in Virginia, to limit women's reproductive health, specifically when it comes to abortion. Do you weigh in on those kinds of political issues?
WESTENHOEFER: I don't talk about a lot of that stuff in my act. I talk about it person-to-person, and if I'm asked to make a speech somewhere. But I'm not a per se political comic in that vein. Not the least of which is, in general, the majority of people who come to see standup really want to laugh. So, unless I can find a real good joke that goes with it, I don't just throw my opinion out there to throw my opinion out there. And there are very talented, extraordinary political comedians who can make great jokes out of that stuff. That is not my forte.
I want the people to laugh. Obviously, I'm very opinionated and I'm very political, and I say a lot of very controversial, politically incorrect things, but I don't know that unless I was in Virginia and doing a show, and news had just happened that morning, and we were talking about it, that I would say much about it. If you've ever seen my full show, you know I'm controversial enough, I don't need to make any more political enemies. I've got enough of them.
MW: From your vantage point, how much progress has the LGBT community made?
WESTENHOEFER: Obviously, we're just way more visible, and I think there's a lot more acceptance. You can't take that away. But to sit back and act like the work is done would be foolish and would be completely wrong. It's a lot easier to be gay in some cities, but I also perform in Kansas, and I perform in Nebraska, and I perform in Alabama and Mississippi. Things have not changed nearly as fast and not as much. There's still a very big schism.
MW: You notice that when you travel around?
WESTENHOEFER: Oh, totally. I think the biggest difference is that it's something we can talk about now. You don't get run out of town, but it's still bad. There are [LGBT] people who lose their children, who lose their jobs. The kids get beat up. This stuff still goes on. And until that kind of thing starts to calm down, and there's a kind of equality in civil rights, it's going to go on. You can't legislate whether or not people are going to be racist. You can't legislate morality. But I do think people's ideals are changing, and I do think part of why the extreme Christian fundamentalist right-type folk are so loud and verbal now is they're seeing that they are losing. They're losing that battle. But that doesn't mean things are going to be great for us for a while, necessarily.
MW: How has your career changed? Do you have more opportunities now than when you were one of the very few openly gay comedians on the scene?
WESTENHOEFER: No. If I had to say the thing that is most different is, when I started in 1990, just by saying I was a lesbian was controversial and was a big deal. Geraldo called and Phil Donahue called. You've got to go on television and talk about it, and it's, "Oh my goodness!" And now there's a lot less of that.
MW: It doesn't have the shock value that it once had.
WESTENHOEFER: And I'm good with that. 'Cause I just want to do my show, you know what I mean? I don't want to have, the first 15 minutes, people passing out or freaking out just 'cause I said I was gay.
MW: Is your family back in Lancaster County, Pa., supportive of your career? Are they fans of your comedy?
WESTENHOEFER: They are. I have a show coming up in Lancaster County in April, in a small town called Ephrata. And all my old babysitters, and the last guy I dated, and everybody – my old cousins and great-great uncles – will come.
MW: I guess you've kept in touch with the last guy you dated.
WESTENHOEFER: Uh, a little bit, yep.
MW: Is that awkward?
WESTENHOEFER: No, he's married and stuff, has kids. [Laughs.] We're all old now!
Suzanne Westenhoefer serves as special guest emcee at Mautner Project's Spring Gala, Saturday, March 9, starting at 5 p.m. at the Omni Shoreham Hotel, 2500 Calvert St. NW. Tickets are $225, or $275 with VIP Reception beforehand featuring Westenhoefer, complimentary wine and hors d'oeuvres. Call 202-332-5536 or visit gala.mautnerproject.org.