Members of Congress are trying again to prohibit anti-LGBT discrimination, bullying and harassment against students in the nation's public schools through federal legislation announced today by a bipartisan group of representatives.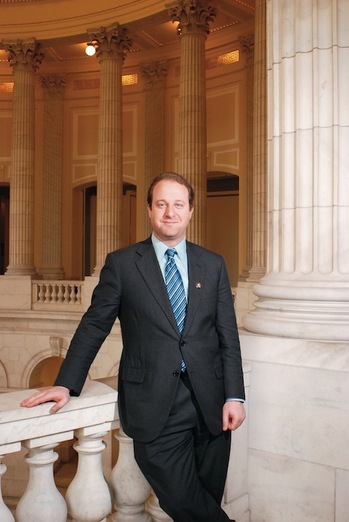 Titled the Student Non-Discrimination Act (SNDA), out gay Rep. Jared Polis (D-Colo.) and Rep. Ileana Ros-Lehtinen (R-Fla.) announced the bill's reintroduction during a conference call with reporters Thursday. According to Polis, the bill "will ensure that every student has the right to an education free from harassment and violence."
"Throughout this country, far too many students fall victim to relentless harassment and discrimination from teachers, staff and their peers based on their sexual orientation or gender identity," said Polis. "Bullying is a leading cause of poor attendance and dropping out, because kids don't feel safe enough to go to school."
The legislation seeks to combat "discrimination, including harassment, bullying, intimidation and violence, in schools based on sexual orientation or gender identity [that] can lead, and has lead to, life-threatening violence and to suicide," according to the bill's text. The bill's supporters say it is modeled after Title IX, which banned gender discrimination in the 1970s, and has more than 110 original co-sponsors in the House, including Minority Leader Nancy Pelosi (D-Calif.).
"Our schools should be learning environments in which students yearn to attend rather than dread," said Ros-Lehtinen, so far the bill's only Republican co-sponsor and that party's most pro-LGBT member of the House. "As a former Florida certified teacher, I understand how children can carry the scars of bullying well into adulthood. LGBT students should enjoy safety as all children do."
More than 80 national and state organizations, from the Human Rights Campaign to the NAACP, ACLU and Log Cabin Republicans, attached their names to an April 18 letter urging members of Congress to support SNDA.
"[N]early fifty years of civil rights history clearly demonstrate that laws similar to the proposed Student Non-Discrimination Act are effective in preventing discrimination and harassment from occurring in the first place by prompting schools to take proactive steps to ensure a safe and supportive learning environment for all students who are in their care," the letter states.
Nevertheless, the bill is still expected to face an uphill battle in the Republican-controlled House of Representatives. It is not the first time Congress has considered such legislation. First introduced during the 111th Congress in 2010, the bill ultimately died in committee. In the 112th Congress, the bill garnered support of 39 senators and 171 members of the House of Representatives along with the endorsement of President Barack Obama. Sen. Al Franken (D-Minn.) is expected to introduce a version of SNDA in the Senate.
While Polis said the bill could be taken up on its own in the House Education and the Workforce Committee, he said the most likely route for passage would be incorporating it into a broader rewrite of the federal education law, known as the Elementary and Secondary Education Act (ESEA). Rep. John Kline (R-Minn.), chairman of the House Education and the Workforce Committee, has not yet voiced his position on SNDA.
"There's dozens, if not hundreds, of education bills and certainly a number of others that I co-sponsor that we hope to include in ESEA reauthorization," said Polis. "We don't know the overall likelihood of ESEA reauthorization, but it certainly remains one of my top priorities, and of course, including SNDA as part of that is critical."
[Photo: Jared Polis (Credit: Todd Franson/Metro Weekly)]
Read the full bill and letter from 82 organizations here:
Student Non-Discrimination Act of 2013