When Edith Windsor exited the Supreme Court after nearly two hours of arguments March 27 on the constitutionality of Section 3 of the Defense of Marriage Act, a roar erupted among the hundreds of marriage-equality supporters who had gathered outside. "Edie! Edie!" the crowd chanted, waving rainbow flags alongside American flags.
The 83-year-old lesbian widow at the heart of one of two landmark gay marriage cases before the Supreme Court strode over to a horde of reporters and television cameras looking frail, but as confident as ever. With several pages of a prepared statement in one hand, she crumpled them up.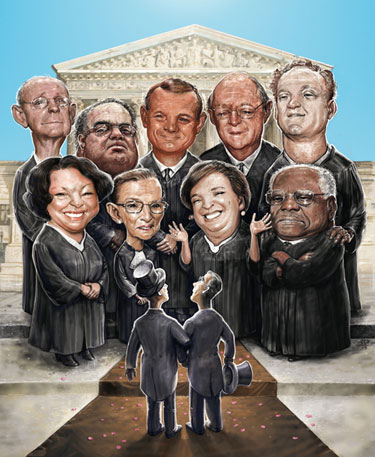 Justices of The U.S. Supreme Court
(Illustration by Scott G. Brooks)
"Hi, I'm Edie Windsor and somebody wrote me a large speech, which I'm not going to make," she said. "I wanted to tell you what marriage meant to me."
Speaking about the more than four decades she spent with her late wife, Thea Spyer, Windsor offered her unique definition of marriage. "It's a magic word," Windsor said. "For anybody who doesn't understand why we want it and why we need it, it is magic."
It was difficult to find anyone on the steps of the Supreme Court last week who didn't use the word "hero" to describe Edie Windsor. Windsor's fortitude in the face of the institutional injustice inflicted against her following the death of the love of her life has captured much of the country's attention, something Americans of any orientation, gender or generation have connected with.
Windsor has been challenging the Defense of Marriage Act since 2010, following Speyer's death in February 2009. She is suing to recoup about $363,000, the federal estate tax she was forced to pay on her "inheritance" from Spyer. The federal government does not tax wealth that passes to a surviving heterosexual spouse.
Living most of their lives in New York City's Greenwich Village, Windsor and Spyer were engaged to marry in 1967. Instead of an engagement ring, Spyer gave Windsor a circle pin adorned with diamonds so as to keep their relationship a secret. Windsor wore that same pin in court March 27. The long engagement was finally sealed in May 2007 with a Canadian marriage license, as Spyer's health began to deteriorate. Overwrought with grief following Spyer's death, Windsor suffered a heart attack. As she recovered, however, she began to realize the injustice of her situation. Even though New York recognized the couple's marriage, because of Section 3 of DOMA, which prohibits federal recognition of same-sex marriage, the federal government treated Windsor and Spyer as legal strangers.
"The story of Edie Windsor is an unbelievably compelling and unfair story," said former Republican National Committee Chair Ken Mehlman, who came out in 2010 and helped organize the brief filed in the Proposition 8 case – the challenge to California's same-sex marriage ban – signed by more than 100 GOP leaders.
And it's the story of Windsor fighting back, winning in district court and the Second Circuit Court of Appeals, as well as winning the hearts of nearly everyone she has met. Outside the high court, Windsor had rock-star status.
"There are a lot of people there who came to see me," Windsor told reporters apologetically before excusing herself to greet the throngs of supporters gathered at the bottom of the Supreme Court steps. "I just want to go see them."
Blowing kisses, Windsor spread her arms in an open embrace of the crowd as photographers captured what will undoubtedly be one of the movement's most iconic images: the elderly lesbian widow who sued the United States government, dressed in a dark pinstripe suit with a vibrant pink scarf around her neck, looking joyous with her arms outstretched on the steps of the nation's highest court.