Long story short, I found myself cruising around the Tidal Basin in the back of a black limousine with famed porn director Chi-Chi LaRue, a local party promoter, an ex-Israeli soldier who spoke little English, and a stripper from one of Southeast D.C.'s dick bars. Alcohol and other social lubricants were involved and I have a distinct memory of an impromptu audition session that fell outside my job description as a freelance writer on one of my gayest assignments ever.
Naturally, we were on our way to Tracks.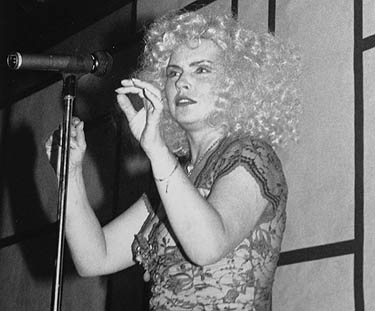 Debbie Harry at Tracks
(Photo courtesy of J.D. Uy/By K. Yum)
All roads led to Tracks during my somewhat misspent but wildly entertaining twenties. My times there weren't always quite so debauched as that gay version of Boogie Nights, although more than a few came close. Damn, I had fun at Tracks.
Friday night at Badlands was the appetizer that got things started and Sunday night at "Kindergarten" was the dessert you'd love but always regret. But Saturday night on the giant dance floor at Tracks was the main course: the dancing, pulsing, sweaty and mostly shirtless reason for weekends to exist.
I have specific memories of things I did at Tracks — meeting Jimmy Somerville, watching Debbie Harry, wearing Lycra shorts because it was the '90s — but I also have these amorphous feelings that I can still close my eyes and summon. The relentless press of people as you made your way through the narrow hallway from the video dance floor to the main room. The slick feel of all those moving bodies under the giant disco ball, thick enough at times that even if you passed out they would hold you up and keep you dancing. The various nooks and crannies where you could retreat with friends to plot out the evening, or chat up the hot guy who caught your eye out by the volleyball court. The intense drama and occasional insanity of hanging out with club kids.
Even so, some small moments always pop up for me when I think about my times at Tracks, seemingly random and odd but all unforgettable.
I remember my friends comforting me when I broke down in tears on the outside deck because I'd lost my job, then shaking it off and dancing.
I remember learning that when dressed for an underwear party I shouldn't ask my soon-to-be-ex boyfriend to hold my wallet because he's just going to buy his friends drinks with my cash.
I remember rushing out of the bathroom trying to get to the dance floor when I heard a specific song start thumping through the floors and walls.
I remember watching an unfortunate young lady power puke on the patio.
I remember learning not to take mescaline before going to a nightclub because I would just end up with my face down laughing at the bar for two hours because everyone else's faces had become simply too hilarious to look at.
I remember meeting more than one boyfriend there.
I remember losing more than one there, as well.
I remember spending every Saturday night with my group of close friends — some of whom are still here and some of whom aren't — and feeling like I belonged.
I remember Tracks was the time of my life.
Read more about Tracks Reunion Weekend: