The Rhode Island State Senate Judiciary Committee today approved two bills – H5015 and S38 – aimed at legalizing same-sex marriage in the Ocean State, while rejecting another bill that would have placed same-sex marriage as a referendum on the November 2014 ballot.
The 10-member committee convened at 3 p.m. with Senate Majority Leader Dominick Ruggerio (D-North Providence) exercising his standing as an ex-officio member of the committee to cast votes on the three pieces of legislation.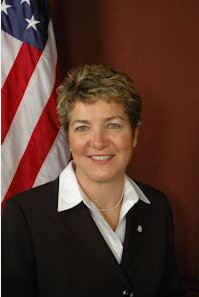 The committee first considered S708, the referendum bill proposed by Sen. Frank Ciccone (D-Providence). The bill would have asked Rhode Island voters whether to approve or reject same-sex marriage, but would have also introduced sweeping religious/moral exemptions for non-religious entities, including small businesses, allowing them to discriminate against gays and lesbians in public accommodations, which is currently prohibited by state law.
Sens. Stephen Archambault (D-Smithfield), Leonidas "Lou" Raptakis (D-Coventry), Donna Nesselbush (D-Pawtucket), Paul Jabour (D-Providence), Erin Lynch (D-Warwick) and Dawson Tucker Hodgson (R-North Kingstown), the committee's sole Republican, won the vote to kill the bill. Ruggerio and Judiciary Committee Chairman Michael McCaffrey (D-Warwick) voted for the bill, joined by Sens. William Conley (D-East Providence), Harold Metts (D-Providence) and Frank Lombardi (D-Cranston).
The committee then considered two marriage-equality bills, both of which would allow same-sex couples access to state marriage licenses while also ensuring some protections to religious institutions opposed to marriage equality. Both H5015, the House version sponsored by Rep. Art Handy (D-Cranston), which passed the House in January on a 51-19 vote, and S38, sponsored by Nesselbush, passed the committee 7-4.
Voting in favor were Archambault, Conley, Hodgson, Nesselbush, Raptakis, Jabour and Lynch. Voting against both were Ruggerio, McCaffrey, Metts and Lombardi.
Ray Sullivan, campaign director for the pro-marriage-equality group Rhode Islanders United for Marriage, issued a statement after the committee votes.
"This is an incredible and historic step forward in the campaign to ensure all loving, committed couples in Rhode Island have the freedom to marry," Sullivan said in the statement. "We are pleased and proud that the members of the Judiciary Committee were so receptive to the thousands of their constituents who reached out and urged them to vote yes on Senator Nesselbush's bill. We will continue to connect the supermajority of Rhode Islanders who support marriage equality with their senators before a floor vote, and believe we have the momentum to achieve victory on this critical issue."
A January poll form the North Carolina-based Public Policy Polling shows 57 percent of Rhode Islanders support marriage equality, while 36 percent are opposed. The margin of error for the poll is 4 points. A February poll from Brown University's Taubman Center showed 60 percent of Rhode Islanders support marriage equality, with 26 percent opposed. The margin of error for that poll is also 4 points.
Sullivan also praised the committee for voting down S708, saying, "Members of the committee heard from their constituents in strong opposition to putting fundamental rights on the ballot, and we thank them for defeating this divisive and harmful referendum bill."
Rhode Islanders United for Marriage claims that since its launch in January its volunteers have knocked on more than 25,000 doors, made more than 12,000 phone calls and delivered 1,631 constituent letters to legislators urging them to support marriage equality.
Both bills will now head to the floor of the Senate for debate and a vote by the full chamber. Opponents are expected to offer amendments to the bill. The bills' success will depend on the ability of marriage-equality supporters to maintain a coalition comprised of the chamber's five-member Republican caucus, which endorsed S38 early Tuesday morning, and 16 liberal-to-moderate Democrats who have each individually promised to support a marriage-equality bill at some point in the past year, against conservative Democrats in Senate leadership who wish to see both measures defeated.
If H5015 passes the Senate with no amendments, it could go to the desk of Gov. Lincoln Chafee (I), who has promised to sign it into law. If S38 is passed, or both bills are amended on the Senate floor, the legislation will go back to the House Judiciary Committee, then the full House for a vote on the amended measure, before heading to Chafee.
[Photo: Sen. Donna Nesselbush, lead sponsor of marriage equality bill S38 (courtesy of R.I. General Assembly.]