Of his Mary T. & Lizzy K., Tazewell Thompson's exploration of the relationship between first lady Mary Todd Lincoln and her seamstress Elizabeth Keckly, the playwright states boldly that it is a work of the imagination. Freed from the necessities of historical accuracy, one would expect the possibilities to be near endless. And with so many of the complexities of iconic public figures lost to the obstacles of patriotism, political correctness and the incurious minds of most modern Americans, one might also hope for some bravery. Yet while Thompson is no doubt aware of where he could have taken this interesting vehicle – such are the hints within – it's a treatment that stays safely within the speed limit.
For even as Thompson delves into the possibly bipolar mind of Mary Todd and begins to approach the dynamic between Todd and Keckly as defined by a Victorian post-slavery society and eventually Todd's illness, events are drawn back to historical reality with a relentlessness that will keep the history buffs nodding. Put another way, this is a play that would be as much at home at Ford's Theatre as it is at Arena.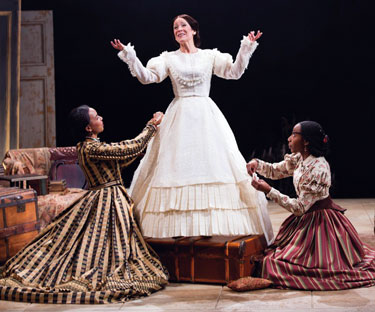 Mary T
(Photo by Scott Suchman)
Of course there's nothing wrong with reanimating history, if that's on the menu, and in this regard, Thompson's weaving of President Lincoln's life (and death) and the winding down of the Civil War into the fevered memories of the widowed and institutionalized Mary Todd is skillfully crafted. Add the poignant realities of the freed slaves now employed by the white establishment and expected to make their way despite the profound disadvantages and traumas of their previous status, and history is brought to an even more relevant and meaningful place. But to claim further imaginative territory would have required much more.
Peel away time and place and at its heart this play is about the balance of power, trust and possibly friendship between a powerful yet unhinged woman and her employee. If Thompson wanted his play to be more than just a thoughtful and sophisticated rendering of history, then here is where the imagination and bravery had to begin.
Thompson does tee it up. With a progressive series of long and connected vignettes, there is a strong delineation of each character's outlook and motivations, the foundation of where a relationship might take them. Mary is described as a woman of humor and strength driven to small madnesses against her will and larger ones by grief, but he also shows that she was forged in a wealthy Southern family of former slave owners, and is quite capable of abusive, imperious rages and has little understanding of the outrages and tragedies suffered by her employees. Indeed, all she really offers Elizabeth is a keening neediness, unpaid bills and a professionally suffocating contract.
And though we learn only the spare, if tragic, facts of Elizabeth's life, first as a child slave and then as freed businesswoman, beneath the stoicism one suspects there is a rage that is only just beginning to peek from the place it has been forced to hide for half a lifetime. And here's the rub: For even though Mary and Elizabeth are historically described as friends, how could Mary and all she symbolizes and still purveys not be a flashpoint for Elizabeth's anger and despair? And why not imagine what Elizabeth might have said to Mary in their most intimate moments? These are the conversations that beg to be provoked and offered.
And yet even as Thompson tiptoes up to these intriguing possibilities, he shies away from them with a tediously long-suffering and perfect Elizabeth who always does and says the right thing as she babysits her crazy white boss. She may get annoyed that she never gets paid, she may have written a revealing book on life in the White House, but Elizabeth maintains a saintly forbearance. But keeping her unassailable means that she is left firmly on the pages of a child's history book. And thus, despite its interesting premise, these are woman and a relationship skimmed, not plumbed, and in that regard it remains unsatisfying.
MARY T. & LIZZY K.



To April 28
Arena Stage
1101 6th St. SW
$68-$100
202-488-3300
www.arenastage.org
All that being said and for what it is, there are good performances and a few poignant moments. As the erratic, tortured Mary Todd, Naomi Jacobson brings limitless energy, much finesse and as much warmth as the characterization allows. If this woman can be likable, perhaps pitied in her mother and wife's despair, Jacobson makes her so. As the stalwart Elizabeth Keckly, Sameerah Luqmaan-Harris is subtlety but memorably unsettling with a self-control that suggests effectively the feelings that roil beneath. And although Luqmaan-Harris is not always at ease with Elizabeth's stark language, more often than not she captures a convincing cadence.
As Ivy, Elizabeth's freed-slave assistant, Joy Jones is credibly buoyant as a young woman whose innocence, if not her spirit, has been brutally stolen. Needing a much quieter pair of boots, Thomas Adrian Simpson's Lincoln is sometimes a good match for Jacobson's high-beam Mary, but otherwise overplayed (though one suspects Thompson, who also directs, may have defaulted to the safety of a caricatured view of this particular national treasure).
Thus punches are pulled, history is reaffirmed, and the rendering here, if slightly intriguing and provocative, will be unlikely to offend. It's one for the visiting relatives – those ready for a bit more, but not too much.