Michele Miruski is still in the entertainment business — in a manner of speaking.
"I entertain the residents all day long, or make sure they're entertained. I do activities for them," says Miruski, referring to the senior citizens who live in the assisted living/memory care retirement home in Oklahoma City, where she works as a life enrichment director.
For the record, her scope of activities doesn't include DJ'ing. "Oh, lord!" she laughs at the suggestion. "Yeah, Glenn Miller's greatest hits, right?"
Michele Miruski
(Photo by Michele Miruski)
This weekend Miruski will spin her greatest hits: '90s club hits Saturday at Town and house jams Sunday at Phase 1 of Dupont, both as part of the Tracks Reunion. Though the 46-year-old got her start at the Hung Jury and the Frat House, it was Tracks that cemented her reputation as one of gay D.C.'s most popular DJs at the turn of the 21st century. "Once I became a DJ, Tracks was my dream gig," she says. "I thought if only I could play at Tracks — that was my goal."
Miruski played at Tracks for a decade, starting in late 1989 and ending with the club's closing party in November 1999. Though she ended as a Saturday night resident, "I cut my teeth" playing on Sunday night for a gay black crowd. "I was a huge house purist back then," she recalls, laughing, "I refused to play anything that was considered stereotypical gay white boy music. And of course that was a very unusual thing, being a short little white girl in the DJ booth playing for all these black men. But oh my God, those are my roots! That was my heart and my love and it's still my favorite kind of dance music."
An adopted, only child, Miruski, who went to high school in Alexandria, Va., moved back to Oklahoma 11 years ago to be closer to her aging parents. "I don't plan on living in Oklahoma forever. I'm in Oklahoma, hello?" she laughs. "But as long as my parents are alive, I'll definitely be here."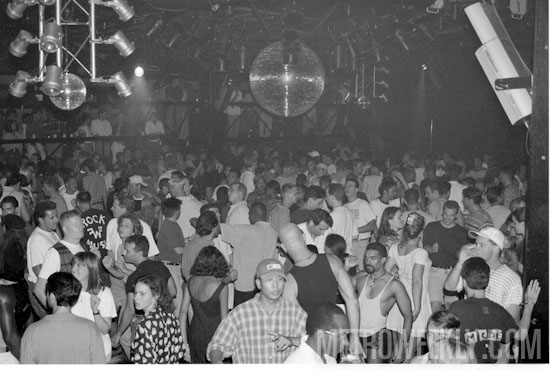 Tracks main dance floor — Click for more photos
"I'm really looking forward to actually seeing everybody," Miruski says of the reunion. "I haven't seen most of these people since before I even moved."
But she's also stressed. "Oh, my God, I am so nervous! I've been trying to shake the rust off practicing." Miruski hasn't spun much in the past few years, having focused instead on getting her master's degree in gerontology.
"Just tell the kids not to be too critical," she says. "Mama's gonna do the best she can!"
Michele Miruski spins Saturday, April 27, and Sunday, April 28, as part of the Tracks Reunion. See Metro Weekly's listing of events and tracksdc.com for more information.
Read more about Tracks Reunion Weekend: