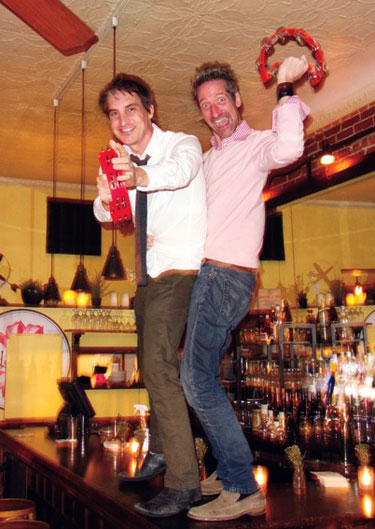 Jim Ball (right) and Christopher Lynch at L'Enfant Cafe
(Photo by Todd Franson)
MW: I would guess that on, say, a Tuesday night, it's pretty calm, that you'd pull in a lot of neighborhood regulars. It can't always be La Boum.
LYNCH: It's a living room for a lot of the neighbors, really. This bar becomes their entertainment. Repeat customers really make this business what it is. They're our bread and butter. We have people who come in five nights a week.
BALL: I love when our busboys – who are full members of our staff – walk out onto the patio and say, "Hello, Donovan. How's work?" Or, "Hi, Kitty." I don't know if at a lot of restaurants the busboys know the customers' names. People will walk in and be greeted by the busboy, the owner, the bartender and three of the servers.
That welcome is catalytic for people who are new to the restaurant. I don't want to say we're clique-y, because we're not. But there's a catalytic exchange.
There's something about this corner, the patio, the staff, the approachability of the menu that makes me very proud. I would hang out here. I had company last weekend. It was Saturday, a beautiful day, and I said, "I want to go to a fun café and hang out on the patio. But I'm not going to go work." After thinking about it, we came here, but I said, "I'm not here!" We sat there and had a great time. I thought, "This is a fun restaurant." And I own it.
LYNCH: We had a spontaneous guitar player on the patio.
BALL: We had a burlesque dancer inside. We had children on scooters. We had neighbors singing. We had people dancing on chairs inside, and we had eggs Benedict and mimosas going on the patio. I said, "Could we add just one more thing to the equation?" And I think we did.
LYNCH: Could you say this is the European version of Cheers?
BALL: I'd say it's Cirque du Soleil meets a croissant. [Laughs.]
MW: Vibrant as it may be, I don't imagine you envisioned dancing on the bar.
LYNCH: No, I did not.
BALL: We sort of envisioned ourselves dancing on this bar from the moment we opened. The bar is the width of our two feet. Truly, as soon as we put this bar in, the first thing we did was get up on it to see if it was sturdy enough to dance on it.
For the vision of L'Enfant Cafe, we took elements we liked from different places and we wanted to put them all in the bucket. We got the beer we liked from one restaurant. We took the patios from the French restaurants. We took the craziness from – that was kind of from our parties. And we came up with this. We storyboarded it, even before we had a place. We put these boards up, cut out from books, magazines, whatever, to get a visual feel, the texture of the place. We came up with three boards – I think we still have them somewhere. We looked at 'em about six years into it and thought, "My God, everything we put on the boards, we put in here." From the bowls to the napkins, to the chairs on the patio, the flowers outside.
LYNCH: That's the same thing that happened with La Boum. We used visual boards, put everything up there that you want it to be. We were cleaning out the office the other day and we pulled 'em out. Everything was on them – check, check, check, check.
MW: So, what was on those boards?
LYNCH: An enhanced menu.
BALL: People dancing on chairs.
LYNCH: Lots of Champagne.
BALL: People eating eggs Benedict. "Fun."
LYNCH: "Booked up/Hard to get into" was actually written on the board. You wouldn't expect this tiny, little jewel-box-sized café to be having a brunch that's sold out for four months in advance, burlesque performers on a Saturday afternoon.
There was even a picture of Lady Bunny as a DJ. Lo and behold, a year later – though it wasn't for La Boum – Lady Bunny was performing in our restaurant. It's a little bit more than coincidence. It's putting something out there and it just kind of happens.
BALL: We had the words on the boards: "Fun." "Joyous." "Happy." It's really great to have all your dreams come true, and it's fun to have someone to make them come true with. One of the surprises for me opening a restaurant is all the great people you meet coming through the door. They've made this ride even more fun. It's like, "Who's playing with us tonight?"
MW: Sometimes you know in advance, like when you have someone scheduled for SpeakEasy.
LYNCH: SpeakEasy came about because Jim and I used to go to Bar d'O in New York City. That's where Joey Arias, Sherry Vine, Flotilla [DeBarge] and Raven O all got their start.
BALL: The nice thing about SpeakEasy is the room is the stage.
MW: There certainly is no fourth wall.
BALL: That's the type of theater we do as the restaurant. This is the show.
LYNCH: This is very much like Bar d'O was. Same size, same look, same feel. When Joey walked into the room, he got it. Instantly. They all got it.
BALL: One of Joey's jokes is, "I just got back from playing Central Park for 10,000 people. And here I am. At L'Enfant." "I just did Carnegie Hall with my jazz band. And here I am. At L'Enfant." And then he spits his gum on the table. He's turned down contracts in other cities because he's booked here with us. He's become a friend, as a matter of fact.