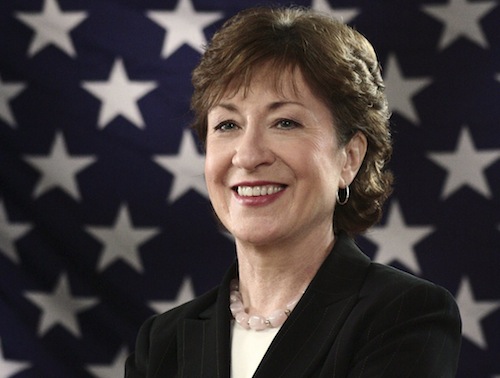 Before Sen. Rob Portman revealed his support for same-sex marriage in a carefully coordinated announcement in the early morning hours of March 15, few would have predicted the Ohio Republican would be the first Senate Republican to endorse marriage equality.
Best known for his focus on fiscal issues, Portman has largely shied from social issues. On marriage equality, he had simply followed the party line.
For Senate observers, however, most bets were on the senior senator from Maine — Susan Collins — to be the first Republican in the upper chamber to back marriage equality. However, nearly three weeks after Portman's announcement and one day after Republican Sen. Mark Kirk (Ill.) became the second Senate Republican and the 50th senator to endorse marriage equality, Collins remains silent.
"I've always felt that domestic relations, including marriage, should be dealt with at the state level," Collins said in a recent interview with the Associated Press. "My philosophy has been to stay out of state issues." Collins would not disclose her personal view on same-sex marriage when pressed, according to the AP.
Known as one of a handful of the LGBT community's allies on the Republican side of the aisle, Collins's silence on the issue of marriage equality has puzzled many who suspected she would "evolve" long before any of her colleagues.
For Portman, it was the coming out of his 21-year-old son that forced him to reconsider his position and led to a "change of heart." While Kirk did not elaborate as thoroughly on his evolution, he said, "Life comes down to who you love and who loves you back — government has no place in the middle." Kirk's state of Illinois is also considering same-sex marriage legislation.
But for Collins, the issue seems far less complicated. On Election Day last November, 52 percent of voters in Maine approved a ballot measure allowing same-sex couples to marry. Presumably, Collins cast a vote on this issue, but she has not revealed if she voted for or against.
Identifying as one of the Senate's few moderate Republicans, some have speculated Collins fears a primary challenge from a more conservative Republican. But on the issue of same-sex marriage, the momentum clearly is on the side of supporters and no one expects Maine voters to reverse their decision to allow same-sex couples to marry. Collins also enjoys a high approval rating among her constituents. First elected to the Senate in 1996, she beat her 2008 Democratic opponent in the blue state with 61 percent of the vote.
As Collins noted in her interview with the AP, she has been a "champion in the Senate on equality and equal rights for gays and lesbians." Indeed, she has voted against amending the Constitution to ban same-sex marriage and voted for expanding hate crime protections to include sexual orientation. She is a co-sponsor of the Employment Non-Discrimination Act and the first Republican senator to co-sponsor the Uniting American Families Act, an LGBT immigration equality bill.
She also received scores of 82 percent and 96 percent, respectively, on the Human Rights Campaign's past two congressional scorecards. And she co-authored the bill to repeal "Don't Ask, Don't Tell," which she told the AP was one of her "proudest legislative accomplishments."
But on the issue of marriage, which has come to dominate the LGBT-rights movement as two landmark cases stand before the Supreme Court, silence is no longer an option for many advocates.
"I don't know why she hasn't voiced her position on the issue of same-sex marriage," Jimmy LaSalvia, executive director of GOProud, wrote in an email to Metro Weekly. "I know that everyone is coming to support marriage equality in different ways for different reasons, but I don't know that there are political reasons preventing any US Senator from Maine from supporting it."
According to Gregory T. Angelo, executive director of Log Cabin Republicans, the political climate is right for Collins and any other Republicans considering supporting marriage equality to make their views known. As recently as three weeks ago, Angelo met with Collins and encouraged her to sign onto the Respect for Marriage Act, which would repeal the Defense of Marriage Act's ban on federal recognition of same-sex marriage.
"I think it's been borne out by Sen. Portman's and Sen. Kirk's evolution that there's not going to be a tremendous amount of blowback from the party or the electorate," Angelo said, adding that would be even less so the case in a state that already recognizes same-sex marriage.
"Very famously the senator does things on her time and we certainly do respect that," Angelo said. "Personally, I think this would be a great way for her to lead on an issue, much as she did on the repeal of 'Don't Ask, Don't Tell.'"
Kevin Kelley, a spokesman for Collins, issued the following statement to Metro Weekly when asked to clarify the senator's same-sex marriage position:
Because she believes this matter is best left up to the states, which have traditionally handled family law, Senator Collins has twice voted against proposed federal amendments to the U.S. Constitution that would have defined marriage, thus pre-empting state laws. DOMA was signed into law by President Clinton in 1996, before Senator Collins was elected to Congress.

Recognizing that all LGBT Americans should be protected from discrimination, Senator Collins has led efforts in Congress to extend federal benefits to gay men and women and their families.

Along with Senator Lieberman, Senator Collins led the successful repeal of the military's "Don't Ask, Don't Tell" policy, which unfairly banned gays and lesbians from serving openly in our nation's military. In addition, she has authored legislation that would extend federal benefits to domestic partners of federal employees. She cosponsored legislation that would prohibit discrimination in the workplace based on sexual orientation and gender identity. Most recently, she became the first Republican in the Senate to cosponsor legislation to update U.S. immigration law to permit American citizens to sponsor same-sex permanent partners applying for legal residency in the United States, and she joined Senator Jeanne Shaheen (D-NH) in introducing a bipartisan bill that would prevent discrimination against lesbian, gay, bisexual and transgendered citizens during the federal jury selection process.

One issue Senator Collins has raised it that the Administration's complex legal brief filed earlier this year calls for the invalidation of California's ban on same-sex marriages. It would have implications for several other states, but the brief curiously does not challenge the prohibition on same-sex marriages in some 30 states that do not recognize domestic partnerships. Senator Collins will carefully follow the Supreme Court's consideration of this important issue.
[Photo: Susan Collins (Courtesy of the U.S. Senate)]