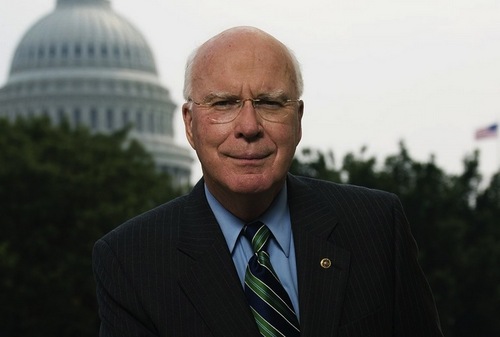 Tuesday evening witnessed an increasingly rare defeat for the LGBT-rights movement after Sen. Patrick Leahy (D-Vt.) was successfully pressured by members of the Senate Judiciary Committee to withdraw an amendment that would have provided protections for binational same-sex couples in immigration reform.
At a time when advocates have been championing the momentum that is on their side as one state after another legalizes marriage equality and as the Democratic Party has fully embraced their cause, the actions of the committee on Tuesday were striking and, according to some activists, a betrayal.
"I don't want to be the senator who asks Americans to choose between the love of their life and the love of their country," said Leahy, who chairs the committee, when they turned to his amendment at the end of a markup period that began earlier this month. The amendment, Leahy said, would recognize married binational same-sex couples for immigration purposes, just as married binational straight couples are recognized.
But amid months of Republican threats to derail immigration reform that have only grown louder in recent weeks, Leahy turned to his colleagues who are part of the "gang of eight" to hear their thoughts on his amendments and why these protections were left out in the first place.
Sen. Lindsey Graham (R-S.C.) warned that "the bill would fall apart because the coalition would fall apart" if the amendment was adopted. "It would be a bridge too far," Graham said.
Added Arizona Republican Sen. Jeff Flake, another member, "It would certainly mean this bill would not move forward."
But for those who have witnessed Democrats voice their commitment to LGBT-inclusive immigration reform, it was the disintegration of support among Democrats that proved most striking. While each prefaced their statements by affirming their commitment to marriage equality and the goal of Leahy's amendment, every Democrat who spoke Tuesday evening urged Leahy to wait. Many noted that the Uniting American Families Act (UAFA) is still pending before Congress and the Supreme Court is slated to rule on the Defense of Marriage Act next month.
"I would just implore to hold off on this amendment at this time," said Sen. Diane Feinstein (D-Calif.), stating it would "blow this bill apart."
Illinois Democratic Sen. Dick Durbin said he believed Leahy's amendment was the right thing to do, but, "I believe that this is the wrong moment, this is the wrong bill."
Sens. Chuck Schumer (D-N.Y.) and Al Franken (D-Minn.) both expressed concerns as well. Describing this as the "most excruciatingly difficult decision" of his career and saying not to adopt the amendment would be "rank discrimination," Schumer said he could not support the amendment if it would bring down the bill.
"I will be here and ready to work with you, LGBT community, at each turn after this one to advance the cause of legal equality," Schumer said. "This is far from our last battle together."
Shortly after 7 p.m., May 21, Leahy announced what seemed inevitable at that point.
"I take the Republican sponsors of this important legislation at their word that they will abandon their own efforts if discrimination is removed from our immigration system," Leahy said. "So, with a heavy heart, and as a result of my conclusion that Republicans will kill this vital legislation if this antidiscrimination amendment is added, I will withhold calling for a vote on it. But I will continue to fight for equality."
Not long after, the committee voted 13-5 to move the immigration-reform bill for consideration by the full Senate, which is expected to take up the legislation in June. As the committee room erupted into chants of "Yes we can!" LGBT activists, who praised aspects of the bill, were left disappointed and angry.
"I think that Chairman Leahy is the only person whose grandchildren will not be embarrassed," said Rachel Tiven, executive director of Immigration Equality, referring to a question previously posed by Leahy about what future generations will think of their actions that day.
Speaking to Metro Weekly just outside the committee room doors, Tiven said it was striking that for so many Democratic senators who call themselves supporters of the LGBT community, few seemed to truly understand the families Leahy's amendment would have helped.
"I wonder if he would have called a vote if he would have gotten even one Democrat on that committee to support it," said Tiven. "It was so shameful to hear senator after senator say nothing when they have looked their constituents in the eye and said, 'I understand you are an immigrant family like any other.'"
Tiven and others have said there will be consequences, at the ballot box and at the campaign finance office. Although blame has been assigned to Republican members of the "gang of eight" for threatening to doom immigration reform entirely if protections were provided to the country's estimated 28,000 binational same-sex couples, Democrats are also facing blame for not standing up to those threats.
"Instead of working to achieve common-sense solutions, Senators Graham, Flake, McCain and Rubio threatened to derail the entire immigration bill to appease a small but vocal group of anti-gay social conservatives that will do anything to stop progress for lesbian and gay couples," said Human Rights Campaign President Chad Griffin in a statement. "We are extremely disappointed that our allies did not put their anti-LGBT colleagues on the spot and force a vote on the measure that remains popular with the American people."
Added Felipe Sousa-Rodriguez, co-director of GetEqual, "Today it became clear that our so-called 'friends' don't have the courage or the spine to stand up for what's right, and are content to buy into the false choice that Republicans created — holding a sorely-needed immigration bill hostage in order to cement inequality into law."
As the immigration reform bill moves forward, it is expected to become increasingly more difficult to attach Leahy's amendments when the legislation faces the full Senate. Many Democrats seem hopeful the Supreme Court will strike down DOMA and make this a nonissue for immigration reform, but advocates insist that is a risky bet to make.
In a statement released Tuesday night, President Barack Obama, who had originally called for same-sex couples to be included in immigration reform, reiterated that the bill was the product of compromise.
"None of the Committee members got everything they wanted, and neither did I," Obama said. Earlier Tuesday the Associated Press reported the White House was advising Leahy to wait to offer his amendments until the bill reached the full Senate. In his statement, Obama added that he remains "hopeful that the amendment process will lead to further improvements."
[Photo: Patrick Leahy (Courtesy of the U.S. Senate)]