A couple weeks ago Katy Perry raved to her nearly 37 million followers on Twitter.
"Just saw KINKY BOOTS on Broadway & cried w/joy from it's [sic] powerful, beautiful message," the pop star Perry wrote in a tweet maxed out to exactly 140 characters. "Congrats on every of its deserved 13 Tony nominations!"
But Perry wasn't done. A few seconds later she sent a second shorter, punchier tweet: "AND if Billy Porter doesn't win the Tony for best actor in a musical… There will be words… Trust."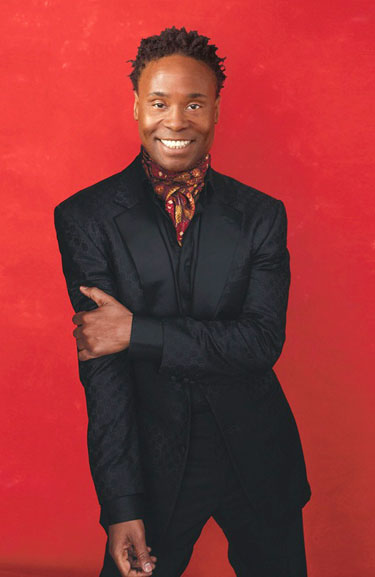 Billy Porter
(Photo by Gavin Bond)
Harvey Fierstein and Cyndi Lauper's musical, based on a 2005 British film about a drag queen who helps save a family shoemaking business, garnered the most Tony nods of any show on Broadway this year. Two of its 13 nominations are for its leads: Stark Sands, who plays Charlie, the straight man, and Porter, who plays Lola, the drag queen. Porter even faces stiff competition from another man who performs in drag — ertie Carvel, who plays a sadistic "headmistress" in Matilda.
Even if the 43-year-old Porter doesn't win — and Perry follows through with more words — Kinky Boots is clearly Porter's star-making role. Not that he's anything of a novice: The actor has spent more than two decades on and off the Great White Way, with additional forays into television and film and pop music.
"Billy's such a great performer and a really, really good guy," Broadway composer Stephen Schwartz said during an interview with Metro Weekly. Schwartz particularly remembers Porter as Belize in the 2010 New York revival of Angels in America, a role that Porter recalls as a "a dream role."
"He was fantastic, I just thought he gave an amazing performance in that," Schwartz says. "And not very surprisingly, he's superb in Kinky Boots as well."
METRO WEEKLY: Congratulations on the Tony nomination. It's your first, right?
BILLY PORTER: Thank you! Yes it is. It's amazing. I've been dreaming of this for a very long time.
MW: Did you think this would be the one that did it for you?
PORTER: Hmm, I knew that it had the potential. It's the kind of part that sort of screams "Tony nomination," if you can actually get all the pieces in place properly.
MW: How long have you been working on the role?
PORTER: Since July of 2011. I did a table reading, and then we did a workshop in January of 2012. And then we went to Chicago in September of 2012.
MW: You've had a good long while to figure out Lola, the character.
PORTER: Yes. I had a nice long time for it to marinate. [Laughs.]
MW: Not to mention getting used to wearing heels so much of the time.
PORTER: I had walked in heels before, so it wasn't the actual walking in them, but it was the idea of having to wear them eight times a week, and trying to figure out how to build my core strength so that I wouldn't have back problems. I started going to Bikram yoga back in November of 2011 before the workshop. And then they sent me to a boutique gym here in New York.
MW: And so far…?
PORTER: I'm holding up. As of now, I'm holding up. I don't have any back problems. I do physical therapy twice a week and I get a massage once a week, so I'm staying on top of all of whatever the physical issues could possibly be.