A single line by the funky British pop band Hot Chocolate sums up the pleasant worldview of Frances Ha: "Everyone's a winner, baby, that's the truth." It's no accident that the chorus appears again and again. Set in a world of rudderless twentysomethings, Noah Baumbach's coming-of-age comedy is an amiable case against the spectacle of a quarter-life crisis. The journey matters, but it doesn't have to be tragic.
Frances (Greta Gerwig) is a 27-year-old aspiring dancer who lives in New York City with her best friend Sophie (Mickey Sumner). Their friendship is passionately intimate and startlingly immature. They say "I love you" more often than a newlywed couple does and they often sleep next to each other. Frances eagerly reminds anyone who will listen that they're "the same person" — in a more colorful moment, she says they're "a lesbian couple that doesn't have sex anymore." Frances surely has visions of growing up with Sophie, enveloping and protecting one another in the warm comfort of asexual bliss. But then the love of her life moves to Manhattan.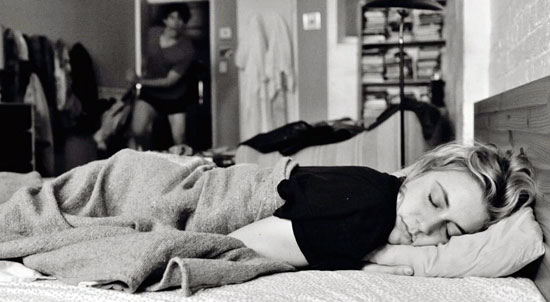 Frances Ha
Without Sophie, Frances begins to falter. She can't afford her apartment anymore, so she moves onto a couch and lives with two spoiled charmers, Benji (Michael Zegen) and Lev (Adam Driver). Although she needs it, she's not hustling for money. Although she wants it, she can't manage to fit in with the young men and women around her. Although she's not trying hard enough to make a living, it constantly seems like she's trying too hard to make friends. Frances is the opposite of precocious.
Make no mistake, though — Frances Ha is rarely mired in the title character's struggle. Baumbach flutters above, picking out the humor and absurdity within a story that's awfully familiar to many of us. (It also helps that the film borrows heavily from the great, delightful composer Georges Delerue.) Baumbach chides the forced complacency Frances puts on to hide her anxieties, but he doesn't judge her for it. He's like a father, gently correcting his young toddler for wrongdoing. He has a lot of affection for this character, and it lightens the mood.
FRANCES HA




Starring Greta Gerwig, Mickey Sumner, Adam Driver
Rated R
86 minutes
Now playing
Landmark E Street, Landmark Bethesda Row
Gerwig, who co-wrote Frances Ha with Baumbach, is a surprisingly deft physical comic. Frances appears to be the clumsiest dancer in New York, pratfalling with just enough grace to make her dream almost seem reasonable. There's a lot of glee in Gerwig's performance, which is a small miracle when you consider how irritating she's supposed to be. She brightens every scene without undermining her character's anxieties, and for that reason alone, she's worth watching.
At its best, Frances Ha is a delightful treat. It's the rare sort of honest comedy that doesn't exaggerate the lives and actions of its characters, but instead finds humor in relatable struggles and everyday conflict. Perhaps that's why cinematographer Sam Levy shot the film in black-and-white. Frances's story is a timeless one, with an agreeable message: If you spend enough time mimicking adulthood, sooner or later you'll be an adult.