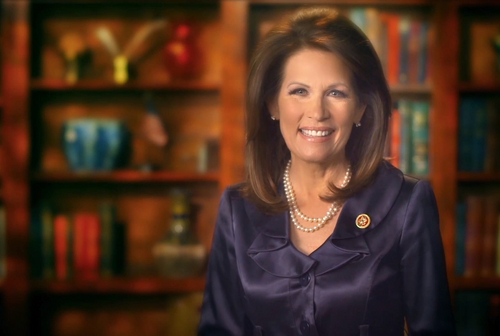 Rep. Michele Bachmann announced early Wednesday she will not run for re-election in 2014.
In a nearly nine-minute YouTube video posted to her website, the four-term Minnesota Republican congresswoman gave no specific reason for her decision not to seek re-election, but gave a number of reasons that she said did not influence her decision.
According to the 57-year-old Bachmann, her retirement from Congress was not impacted by concerns about her ability to win re-election nor an ethics investigation into the misuse of finances during her unsuccessful run for the Republican presidential nomination in 2012.
"Be assured, my decision was not in any way influenced by any concerns about my being re-elected to Congress," Bachmann said in her video statement. "And rest assured, this decision was not impacted in any way by the recent inquiries into the activities of my former presidential campaign or my former presidential staff."
Despite those statements, Bachmann already appeared to be hunkering down for a tough re-election battle after narrowly defeating her Democratic opponent, Jim Graves, in 2012 with just a few thousand votes. Graves has said he would run against Bachmann again in 2014.
As noted by The Washington Post, Bachmann was already running television ads in her Minnesota district and soliciting campaign donations from supporters.
Bachmann first came to Congress in 2006 after serving in the Minnesota Senate and has long been a tea party favorite. She has also drawn the ire of LGBT people for her anti-gay statements and the allegations that the Christian counseling clinics owned by Bachmann's husband, Marcus, engaged in therapy that sought to "cure" gay people of their homosexuality. Bachmann also supports a constitutional amendment banning same-sex marriage and backed a Minnesota ballot initiative to ban same-sex marriage in 2012. Minnesota voters rejected that amendment in November and earlier this month Minnesota lawmakers voted to legalize marriage equality in the state. According to the Human Rights Campaign's Congressional Scorecard, Bachmann received a score of zero for the past three sessions of Congress.
According to Gregory T. Angelo, executive director of Log Cabin Republicans, his organization is "not exactly heartbroken" over Bachmann's retirement.
"Congresswoman Bachmann was always reticent to engage with Log Cabin Republicans on even the most basic level. We'll be consulting with our Minnesota Chapter and GOP allies in the state in the coming days regarding potential candidates," Angelo told Metro Weekly. "Marriage equality is a reality in Minnesota now, and it's important that the next GOP Congressman from Minnesota understands that reality."
Although Bachmann gave no specifics about her future plans after she leaves Congress, few expect her to vanish quietly from the national scene. In her video statement, Bachmann said, "There is no future option or opportunity, be it directly in the political arena or otherwise, that I won't be giving serious consideration if it can help save and protect our great nation."
[Image: Michele Bachmann (via YouTube)]
[Editor's note: This post has been updated to include quotes from Gregory T. Angelo.)