"[Some] were a little concerned that this might not be the kind of show you should take your children to," says David Elliott. "Another person argued that this is exactly the kind of show you should take your 16-year-old to."
Elliott is talking about early crowd reaction to The Submission, now playing at Olney Theatre Center. The exurban Maryland theater company is known for staging high-quality productions, even the occasional provocative play. But Olney is best known for staging surefire fare, principally established musicals such as A Chorus Line and The King and I. Rarely does the company offer an edgy, experimental play like The Submission.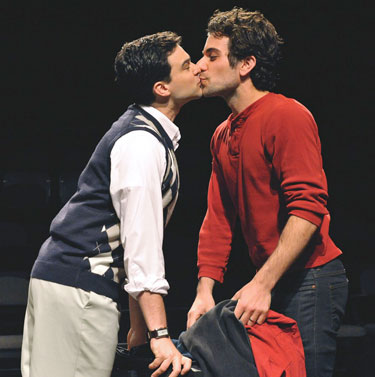 The Submission
(Photo by Stan Barouh)
The Submission, says Elliott, its director, is a play "about the nature of identity, and the definition of who you are in terms of how you see yourself, and how you are seen by other people." In The Submission, a middle-class gay white man writes a play about a poor black family. He then submits it to a prestigious theater festival using a fake name, Shaleeha G'ntamobi, because, as Elliott explains: "He doesn't think that a guy like him could ever get a play produced that's about this subject material. So he hires essentially a front," an African-American actress to pretend to be the playwright once the festival agrees to produce the play.
"More than half of [The Submission] feels like it's a comedy," Elliott says, "[until it] devolves into a war of words." By play's end the gay playwright and the black actress have said some ugly, hurtful things about each other and their respective identities.
Elliott, a New York-based Broadway producer (Vanya and Sonia and Masha and Spike) and occasional voiceover actor, thinks Jeff Talbott, the actor who wrote The Submission, "wanted to start a conversation about some pretty important issues," including the way language is too easily used as a weapon. "There is a lot of [foul] language in this play," Elliott says, adding, "It seems like a bit of a departure, certainly in the last decade, for Olney. I hope they continue to push the envelope." '
The Submission runs to June 9 at Olney Theatre Center, 2001 Olney-Sandy Spring Road, Olney, Md. Tickets are $32.50 to $65. Call 301-924-3400 or visit olneytheatre.org.