A Washington Post poll of Virginians regarding various social issues shows that a majority of Virginians believe same-sex marriage should be legal, a finding that challenges other polls in recent years showing that marriage equality still lacks broad support across the commonwealth.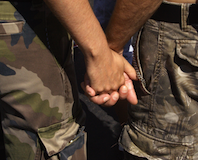 According to the Post poll, 56 percent of Virginia adults believe it should be legal for gay and lesbian couples to get married, while 34 percent think it should be illegal. Ten percent expressed no opinion. Among registered voters, those who thought it should be legal led by a similar margin, 56 to 33 percent.
The poll was conducted by telephone from April 29 to May 2 among a random sample of 1,000 adults in Virginia, including 887 registered voters and users of both conventional and cellular phones. Among registered voters, the poll has a margin of error of 4 percentage points.
The Post poll found majority support among Democrats and independents, while Republicans were split on the issue. Among registered voters who identify as Democrats, 75 percent thought marriage equality should be legal and 21 percent illegal. Fifty-six percent of self-described independents who are registered voters say same-sex marriage should be legal, 33 percent illegal. Among Republicans who are registered voters, 40 percent say same-sex nuptials should be legal, while 47 percent say they should be illegal. Virginia does not register voters by party, so polling relies on self-identification.
Among all adults, regardless of voter-registration status, liberals and moderates support marriage equality by overwhelming margins – liberals by an 82-15 spread and moderates by a 65-27 spread. Only a third, or 32 percent, of conservatives, support marriage equality, with 53 percent opposed.
The Post poll also found strong support among demographic groups that tend to skew more politically liberal, with women more strongly supportive than men, and nonwhites more supportive than whites. Whereas 53 percent of Virginia men believe same-sex marriage should be legal, 60 percent of women in Virginia do. Whites favor marriage equality by a 54-37 margin, and nonwhites by a 62-28 margin. Among African-Americans, that margin increases to 64-28.
In keeping with national trends and polling from other states, Virginians ages 18 to 29 support same-sex marriage by a 72-22 margin. Support for legal same-sex marriage ranges from 54 to 60 percent among those in 30 to 64, but a majority of those over 65 believe same-sex marriage should be illegal, with only 35 percent in favor and 53 percent opposed.
Geographically, the greatest support for marriage equality in in the D.C. suburubs, with 69 percent saying same-sex marriage should be legal and 22 percent saying illegal. But residents in Central and Western Virginia say same-sex marriage should be illegal by a 56-38 spread.
The Post poll directly conflicts with an April poll by the University of Mary Washington Center for Leadership and Media Studies, which found only 45 percent of voters in Virginia support allowing same-sex couples to legally wed in the commonwealth.
The Mary Washington poll also contradicted the findings of the Post poll in terms of support for same-sex marriage among different racial groups. According to that poll, white voters in Virginia oppose allowing same-sex nuptials by 50-46 percent and African-Americans oppose the idea by 54-40 percent, while Hispanics support same-sex marriage by a 64-34 spread.
The Mary Washington poll is more consistent with polling from 2011 and 2012 done by the North Carolina-based firm Public Policy Polling, which found majorities of Virginians opposing same-sex marriage. But two other Post polls from 2011 and 2012 found a plurality of support for same-sex marriage in Virginia, with 47 percent and 49 percent, respectively, supporting the idea that it should be legal.
In an interview with Metro Weekly, James Parrish, the executive director of the nonpartisan LGBT rights organization Equality Virginia called the results of the Post poll "exciting to see."
"It's definitely nice to see, but it's something we expected," Parrish said. "Support in Virginia mirrors what's going on nationally. Hopefully, this will set Virginia up to be able to remove the marriage amendment and allow same-sex couples to marry in the state."
Parrish noted that the strongest movement in support for LGBT rights has occurred among Republicans. He said that polling by Equality Virginia has also seen that shift among Republicans in its own polling, which explains why a bill supporting workplace nondiscrimination protections in state employment garnered stronger-than-usal support from Republicans this past legislative session. That measure passed the state Senate 24-16 before being killed in committee by members of the House of Delegates.
According to Equality Virginia's polling, workplace discrimination had the most support among all groups, and marriage equality had the least support. But Parrish said that has implications for other pro-LGBT measures the organization has been trying to get passed in recent years.
"What Equality Virginia and LGBT Virginians can take from this is not only should we expect to see support for marriage equality, but that there's clear, broad support for workplace discrimination protections and allowing LGBT families to adopt," Parrish said, noting that both issues consistently outperform marriage. "It's good to see that Virginia is consistent with the national trend. Unfortunately, it also shows that the members of the House of Delegates do not represent what most Virginians are thinking."
[Photo: Gay couple holding hands (Photo credit: Till Krech, courtesy Wikimedia Commons).]