Street performer, dancer and LGBT-rights advocate Qween Amor, a frequent fixture at Metro stations around the D.C. area, was assaulted and robbed while performing in New York City Tuesday.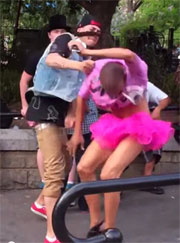 Qween Amor punched
Amor, whose last prominent performance in the District involved leading a group of pro-marriage-equality demonstrators in dance outside the Supreme Court in March, and who has previously clashed with anti-gay forces such as the Westboro Baptist Church and the Black Israelite movement, has been traveling the country dancing to spread a message of love and acceptance for everyone.
But on May 7, Amor was punched in the face by a man who called him a "faggot." Amor was apologizing for nearly bumping the man with his suitcase when that man hit him. While police later arrested the assailant, Amor was robbed by someone else during the incident. The thief stole Amor's suitcase, which contained an amplifier used during performances, a laptop and other personal belongings.
Amor has since posted video of the attack on YouTube and is asking people to share the video of the attack to spread more awareness of anti-LGBT hate crimes.
Amor told Metro Weekly via Facebook that he has filed charges against the man who hit him, and hopes the assault will be handled as a hate crime.
"I'm going to make a video hopefully inspiring anyone who has been a victim of hate crimes to start speaking out about it because I've had enough of the ignorance and intolerance," Amor told Metro Weekly. "Especially from the people who watch it happen and do nothing about it."
To continue performing, Amor is accepting donations to help replace the stolen amplifier and other belongings. Donations or contributions can be made via PayPal to QweenAmor@gmail.com .