The Capital Pride Parade still winds around Dupont Circle every June, but Realtor Ted Smith of Stages Premier Realtors Washington argues that the epicenter of the LGBT community is now Logan Circle. The housing markets at both Dupont and Logan are mature, however, and most new homebuyers are looking for the next hot neighborhood.
Michael Fowler, a Realtor with Sotheby's International Realty, says pricing is the major factor in where people look, especially because you can find some community in every area neighborhood as the LGBT community in metro D.C. is so large.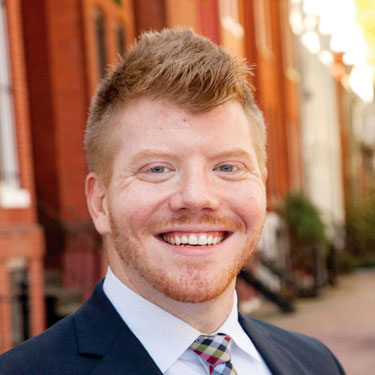 Michael Fowler
(Photo by Sean Shanahan)
This is good news since real estate in the District is a seller's market now. Steven Sushner, president of District Title, says, "The whole city seems to be on fire on right now. Several agents have told me that while it's not quite as insane as the 2004-2005 market, a competitive buyer is no longer including an inspection contingency."
Many gay couples and singles, especially those looking for their first homes, are moving north or east of Logan into neighborhoods such as Shaw/Howard, Bloomingdale, LeDroit Park and the H Street corridor near the Atlas District and Gallaudet University. Another option is the 11th Street corridor off Columbia Heights. Smith says that, "LGBT people have always been on the leading edge of gentrifying neighborhoods."
Many people will willingly sacrifice grass for a pedestrian lifestyle near shops and restaurants. Some LGBT buyers may not yet be – or not ever be – interested in parenthood, so they're less concerned with schools and are looking for interesting properties they can renovate. Vaulted ceilings or a private balcony take precedence. Fowler says one common denominator for most LGBT clients is space for entertaining.
The diversity of the neighborhoods is also a draw, though not everyone is a fan of gentrification. It can be difficult for residents who can no longer afford to live in the neighborhood, but many make a great profit on homes they are selling. And to help keep the city diverse, the District's housing commission requires some new housing developments to include affordable units.
While many LGBT folks crave edgy neighborhoods, that's not true for all. For couples planning on children or those less interested in what's new and hip, more settled neighborhoods are a draw. In the city, Georgia Avenue/Petworth is a more residential option, but that market is also saturated. Maryland and Virginia offer some great deals as well as great community. Fowler recommends Takoma Park, Silver Spring and Bethesda in Maryland, and Clarendon and Old Town in Virginia.
Notably, buying can be a more feasible option than renting.
"A buyer on the fence between buying and renting should seriously consider purchasing now," advises Sushner. "With interest rates as low as they are today it could cost a buyer hundreds of dollars extra per month [if they] wait another year." There are online calculators that can walk you through your specific situation.
Smith recommends that if you really want a property, "Be prepared to offer full price and to have an escalation clause. If a property is decent, there will be multiple offers." It is also a good idea in this market to get prequalified before you start looking. You want to be looking at housing at a range you can afford.
One final tip from Fowler is to find a good Realtor. "They can identify off-market homes, point you toward areas and neighborhoods you previously didn't consider and, most importantly, they can help you develop a strategy so that you do not pay more than you have to in this strong seller's market."
Whether you're looking to renovate a row house in an up-and-coming neighborhood or to finally get out of the city, you can be sure you'll find great community there too.
Jessica Vaughan is a freelance writer in Washington and a member of CAGLCC.
CAGLCC means business. For more information, visit caglcc.org.