Marking its 23rd year, it's time for the annual DC Black Pride weekend. Running Friday, May 24, through Sunday, May 25, the weekend is full of events that are cultural, social and educational. Add on the unofficial, ancillary events, and the celebration actually runs all the way into the wee hours of Tuesday morning, May 27.
"There's an undercurrent of excitement," says Earl D. Fowlkes Jr., CEO and secretary of Black Lesbian and Gay Pride Day Inc. (BLGPD), which produces the event. This year's theme, "Step Up & Be Heard," is part of that excitement.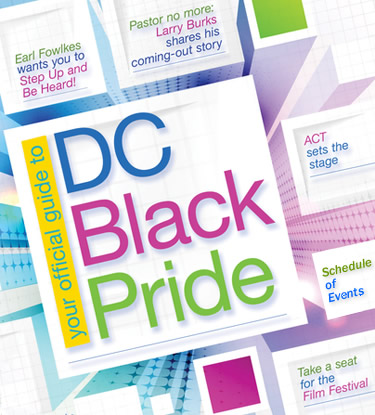 "Visibility is key to reducing stigma and ignorance," he says, explaining that it's a crucial time in the community, following the re-election of the nation's first African-American president and a range of LGBT issues grabbing national attention. This is an important time, says Fowlkes, for the black LGBT community to make its presence known in greater ways.
"I can't tell you how many times I've heard, 'I don't know any gay black people,"' he says with a hint of frustration. "People have to step up. We need people to do that. We need to really provide encouragement to take their journey and make it public."
Many of those in the spotlight, people who have indeed stepped up, will be celebrated at Friday night's opening reception and community awards presentation.
The honorees include one very prominent community ally, D.C. Mayor Vincent Gray, who will be honored with the Eleanor Holmes Norton Award. The Welmore Cook Award will go to Dr. Imani Woody and Courtney Williams. Theara Coleman and Christopher Watson will be recognized with the DC Black Pride Leadership Award, while Donald Burch's hard work will be honored with the Charlotte Smallwood Volunteer Award.
Beyond the honorees, however, Fowlkes has others in mind to celebrate over the weekend. He wants to celebrate everyone in the community, those people who have come out to DC Black Pride over the years and forged the networks and connections that have led to the thriving community that exists today. That is the core of what makes the celebration meaningful.
"It's funny that with social media, there's less interaction face-to-face," Fowlkes observes. "You can meet someone online, but, ultimately, relationships are built face-to-face. A lot of people who used to come to Pride miss that interaction. We want to bring it back. There's a party on Saturday night with Barefoot Wine, for example. We're not asking for any money, just come and mingle for free. We just want to get people to talk to each other. Let's go back to the things we used to do and have people be together."
DC Black Pride, running Friday, May 24, to Sunday, May 26, is centered at the Hyatt Regency on Capitol Hill, 400 New Jersey Ave. NW. For a full list of weekend events, including unofficial parties, visit dcblackpride.org.