What did former child actor Rahsaan Patterson want to do when he grew up?
"I didn't know," says the gay Patterson, now decades into adulthood with a career as a well-regarded R&B singer/songwriter. "I didn't have enough time to really get to that thought process, because it all happened so soon. I just knew that I sang, and I just knew that I loved music. That was it. I didn't know that I would have a career in it."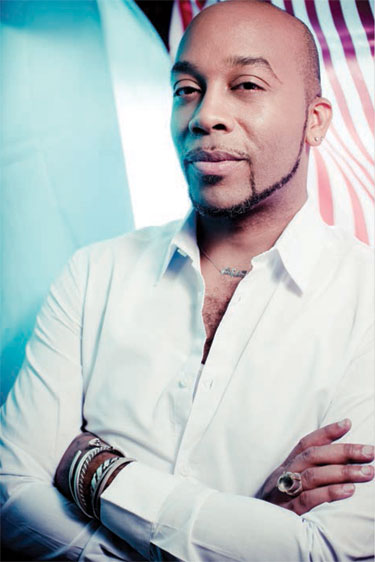 Rahsaan Patterson
Patterson got his start in show business as a 10-year-old actor on the popular '80s-era music-steeped show Kids Incorporated. The same children's TV series also birthed show-business careers for Jennifer Love Hewitt, Mario Lopez and Stacey "Fergie" Ferguson, among others. Patterson was known simply as "The Kid" on the show its first few seasons. "I was well into my 30s," explains the now-39-year-old, "when I realized my character's name came from Purple Rain." Patterson's real given name came as a tribute to late blind jazz saxophonist Rahsaan Roland Kirk.
Patterson turned to music soon after he left Kids Incorporated in 1987. He wrote R&B hits for Brandy and Tevin Campbell, sang background vocals for artists including fellow Kids veteran Martika, and released a self-titled debut on MCA. But since the turn of the millennium Patterson has become more of an underground R&B star. Having been openly gay from the start has no doubt played a part.
"I've seen [gay people and gay culture] become much more embraced in popular culture over the years, which is a great thing," Patterson says. "But in the black community, it hasn't been as embraced. On the pop side I've seen it become embraced, but not as much so in the R&B realm, commercially speaking."
And that reality, Patterson adds, "has taken its toll on me."
"I believe I'll always make music," Patterson adds, "[though] I do believe there will come a time when I will press 'pause' on it."
Most likely he'll press pause to roll tape. These days Patterson has been finding more inspiration in film. "I hope to direct a movie," Patterson says about one long-term goal, "and make additional works of art that are not necessarily associated with music."
Friday, June 21, at 7:30 p.m., at The Birchmere, 3701 Mount Vernon Ave., Alexandria. Tickets are $55. Call 703-549-7500 or visit birchmere.com. Also Saturday, June 22, at 6:30 and 9:30 p.m., at Ram's Head On Stage, 33 West St., Annapolis. 'Tickets are $37.50. Call 410-268-4545 or visit 'ramsheadonstage.com.