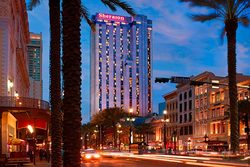 There is sometimes truth in the old saying, "No good deed goes unpunished."
Shortly after Hurricane Katrina, many of the hotels in New Orleans — either as a result of storm damage or by choice — undertook major renovation projects while the city was rebuilding and tourism was declined. The Sheraton New Orleans didn't.
The Sheraton stayed open during Hurricane Katrina. And when people came to help rebuild after the devastating storm, it stayed open. And when tourists and business travelers started to return and bring much needed economic stimulus, it stayed open.
In addition, the Sheraton took care of its employees following Katrina. It helped relocate displaced emplyees to Dallas, Houston and San Antonio. Its parent company, Starwood Hotels, opened up one of its hotels in Atlanta that was closed for renovations to provide temporary housing to about 500 employees and family members.
The Sheraton continued to pay its employees and gave each full-time employee impacted by the storm $2,000. It also helped employees register with FEMA and the Red Cross for services. Additionally, Starwood's employees raised $2 million for their co-workers in the Gulf Coast region through an online auction and by donating vacation pay.
Although the Sheraton was taking care of its employees and was doing a worthy thing for New Orleans by staying open, it was hurting itself by not following the path of many of its competitors. Reviews of the property on websites such as Trip Advisor and Yelp often made mention of the hotel's need for renovations.
Depending on the size and nature of a hotel, significant renovations typically take place between every three to six years. The Sheraton had its last major renovation in 2002, and Katrina hit in 2005. By the time the Sheraton was at the far end of the timeline for its next renovation in 2008, the recession was starting and the hotel had to wait.
Although it was constantly making general upgrades, it was not until June 2012 that the Sheraton was able to announce that it would be embarking on a multimillion-dollar overhaul. The final phases of the renovation were just completed in mid-May and the total price tag topped $50 million.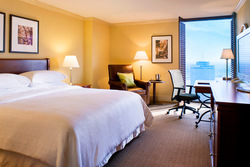 There was a floor-to-ceiling transformations of the 49-story hotel's 1,110 guestrooms and 53 suites, which have an updated contemporary decor with a warm color palette of espresso brown, midnight blue, and yellow gold accents.
The lobby, Sheraton Club lounge, fitness facility, meeting spaces and ballrooms have also been refurbished. And new brighter, energy efficient lighting was added throughout the property.
Much like the city that it loves, the Sheraton has been reborn. With its major makeover complete and its prime location just steps from the French Quarter, its is ready to welcome visitors and help them discover the best of New Orleans.
For more information on the Sheraton New Orleans, a gay-friendly TAG Approved property, please visit SheratonNewOrleans.com.
UPCOMING NEW ORLEANS EVENTS:
More information on visiting New Orleans is available at NewOrleansOnline.com.