Flying back to the U.S. with her Danish wife in July, Mary Coble was welcomed – albeit politely – with some institutional homophobia. So many same-sex families know the drill: Families approach the passport control counter together. But until the Supreme Court struck down Section 3 of the Defense of Marriage Act in the end of June, that definition of family didn't necessarily apply to same-sex spouses as far as the Department of Homeland Security, responsible for border crossings, was concerned.
Apparently, the DHS officer didn't get the memo.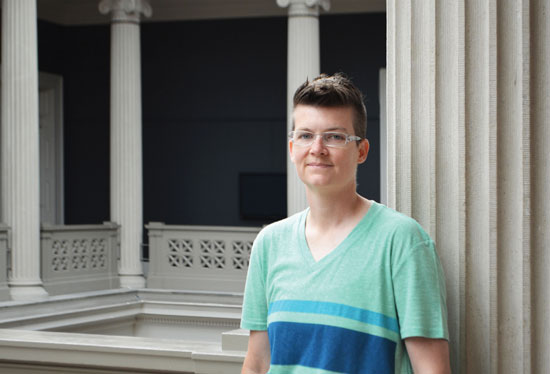 Mary Coble
(Photo by Junnie Shah)
"He reminded us the federal government didn't recognize our marriage," says Coble, who will be exploring a different sort of institutional homophobia at the Corcoran Gallery of Art next week.
From Aug. 7 to 10, Coble will lead a performance piece titled Deferral, challenging the Food and Drug Administration's ban on blood donation by men who have had sex with men at any time since 1977. Coble will express this challenge by first having a pint of blood drawn in the Corcoran atrium, surrounded by hospital curtains. She'll spend the next days using that blood as a medium, the curtains her canvas. Several gay men will also pass through the exhibit at various times, leaving their own marks with red thread stitched into the curtains. Coble, who has used blood as a medium in the past, explains its particular importance in this instance.
"It's not a medium that I consider my main medium, but in this piece it was necessary and completely relevant," says Coble. "I could use my blood. The gay men could not."
The ban, says Coble, who considers herself both artist and activist, becomes even more suspect when considering language that's been used in blood-donation campaigns, with potential donors urged to be "heroes," where not donating equates to being a "wuss."
"What happens when you're the person who can't donate blood? You're told not to feel fierce and proud?" she asks. "That's a big part of some of my questioning. The FDA's policy is inappropriate. It's not keeping up with the times. It's homophobic." '
Mary Coble performs Deferral Wednesday to Saturday, Aug. 7 to 10, at the Corcoran Gallery, 500 17th St. NW. The piece may be viewed as an installation Sunday, Aug. 11. Regular admission is $10. For hours or other information, call 202-639-1700 or visit corcoran.org.