The Human Rights Campaign (HRC), the nation's largest LGBT civil rights organization, released polling at a press conference in Richmond Thursday showing the citizens of the commonwealth are favorably disposed toward LGBT rights, including marriage equality, adoption by same-sex couples and nondiscrimination protections.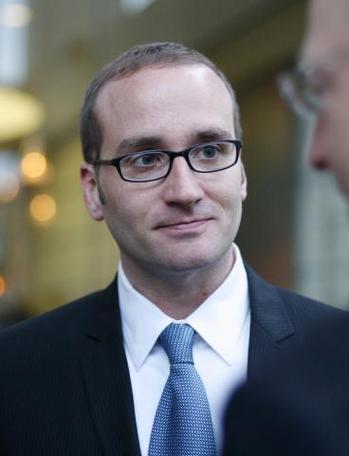 Joined by Democratic statewide nominees Terry McAuliffe, Ralph Northam and Mark Herring, out gay Sen. Adam Ebbin (D-Alexandria, Arlington, Fairfax) and Del. Jennifer McClellan (D-Richmond), HRC President Chad Griffin announced the results of the poll, which showed 55 percent of Virginians support marriage equality. Among those asked if they favor "allowing gay and lesbian couples to wed legally," 40 percent "strongly favor" marriage equality. The poll found 41 percent of Virginians oppose marriage equality.
Support for gay marriage within the commonwealth varies widely by region, with overwhelming support in Northern Virginia, where residents favor marriage equality by a 68-27 spread. Residents remain closely divided in Central and Eastern Virginia, but support for marriage equality still registers majority support, with supporters outnumbering opponents 53-42 in Central Virginia and 51-47 in Eastern Virginia. The western region stretching from the Shenandoah Valley down through the state's panhandle remains opposed to marriage equality by a 63-35 margin.
The poll also found that 58 percent of African-Americans, who make up about one-fifth of the state's population, support marriage equality, as do one-third of self-identified Republicans. The level of support for marriage equality jumps to 71 percent among residents under the age of 30.
Marriage equality received the least support among the six LGBT issues mentioned in the poll. Virginians favor allowing gay and lesbian couples to adopt children by a 60-33 margin, and allowing gay and lesbian couples to "enter into legal agreements with each other that would give them many of the same rights as married couples" – something currently banned under the state's Marshall-Newman Amendment – prevails by a 70-27 margin.
The poll also shows high support for nondiscrimination protections for LGBT people in employment, at both the federal and local levels, with support for federal protections enjoying a 74-19 margin of support; and 73 percent of residents, including 62 percent of Republicans and 70 percent of independents, supporting state protections, compared to 20 percent who oppose them. Fifty-one percent of all Virginians "strongly favor" both state and federal protections for LGBT workers.

The results of the survey show a great disparity between residents who support a range of LGBT rights and their representatives in the General Assembly, particularly in the House of Delegates. Of the 100 members of the House, who must stand for re-election alongside the candidates for various statewide offices this November, only 29 of 32 Democrats and three of 68 Republicans – Tom Rust (R-Fairfax, Loudoun counties), Joseph Yost (R-Radford, Montgomery, Giles, Pulaski counties), and R. Lee Ware (R-Chesterfield, Fluvanna, Goochland, Powhatan counties) – co-patroned bill SB701, killed in committee this past legislative session, which would have protected LGBT people from being discriminated against in public employment.
Most Northern Virginia Republicans in the House, often labeled as moderates, have not expressed any support for LGBT rights despite their constituents' overwhelming support for such measures.
But the HRC-sponsored poll also contained bad news for LGBT-rights advocates. For example, even though nearly three-quarters of Virginians support nondiscrimination protections for LGBT people, 72 percent of respondents do not realize that such protections do not exist in Virginia, and 81 percent of respondents did not realize that those protections were not guaranteed at the federal level.
The poll also found that 71 percent of Virginians report hearing a high level of negative messages about LGBT people, particularly from movies, TV, the Internet, their friends and their politicians. Only 15 percent of respondents said they heard anti-LGBT messages from their religious leaders, but, when asked directly, 17 percent said they have heard their religious leaders deliver an anti-gay sermon.
Despite these findings, HRC President Chad Griffin hailed the attitudes illustrated in the poll as a positive development.
"The future of equality is bright in Virginia," Griffin said in a statement. "Like so many other places, we see two trends in the commonwealth. Young people in overwhelming numbers recognize the importance of allowing everyone to marry the person they love. And, as we've seen nationally, a decisive majority of people think it's just common sense to ensure that no one should ever lose their job simply because of who they are or who they love."
The poll was performed by two separate firms, Democratic-leaning Greenberg Quinlan Rosner Research and Republican-leaning Target Point Consulting, from June 26 to 30. The poll has a margin of error of 4.9 percentage points.
At Thursday's press conference, Griffin also announced that HRC was endorsing the Democratic slate of McAuliffe, Northam and Herring for November's statewide elections, as Equality Virginia's political action committee (EVPAC) had done previously, citing the opposition of Republican gubernatorial and lieutenant governor nominees Ken Cuccinelli and E.W. Jackson to LGBT rights.
"Virginians have a choice to make in November. One option – Ken Cuccinelli and Bishop E.W. Jackson – represents harmful beliefs that are not indicative of the mainstream values of either party, Republican or Democrat," Griffin said. "But Virginians can reject that radical fringe, and instead elect candidates who support fairness, freedom and dignity for all."
James Parrish, executive director of the LGBT-rights organization Equality Virginia, said he was not surprised by most of the poll's findings.
"We had done similar polling in 2008 and 2009 that found majority support for adoption and workplace protections, so we were very excited to see that those numbers had strengthened further, and that now a majority of Virginians support marriage equality," Parrish told Metro Weekly in an interview.
Parrish said he was a little surprised about the number of people – 71 percent statewide, according to the poll – who claimed they knew an LGBT person. He also said he was surprised how many people did not know that Virginia currently has no workplace protections for LGBT people, even though he expected the number to be high.
"It didn't surprise me; I knew the number was high," he said of the polling on workplace protections. "People, even in our own community, at Pride events, have often argued or insisted that there are protections, and we have to educate them about the lack of protections."
He added that some may be confused due to executive orders prohibiting discrimination on sexual orientation that were issued by former Govs. Mark Warner (D) and Tim Kaine (D), now both U.S. Senators. But he pointed out that those executive orders are temporary and were not renewed by Gov. Bob McDonnell, meaning the only way to cement them into law is to pass them through the General Assembly.
"Hopefully, this will show supporters, and funders, the need for education on this topic," Parrish said.
Although EVPAC has not endorsed any candidates for the House of Delegates, and is still in the process of receiving candidate questionnaires, Parrish said that, based on the results of both private polling and the HRC-sponsored poll, he hopes the organization will be able to push candidates to really support Equality Virginia's priorities.
"In the past, EVPAC has supported people, hoping that giving them our support will nudge them just enough to be supportive of these issues," Parrish said, noting that he was speaking for himself, and not on behalf of Equality Virginia or EVPAC. "I would like to see what the numbers are in particular areas. With these polling numbers, it seems like if you can't show support for our issues, then we have no business supporting you. I think there's no excuse, especially in LGBT-friendly areas. We need to place them on a higher standard."
Parrish also noted that several Fortune 500 companies and other major employers in the commonwealth already offer a variety of benefits or protections for their LGBT employees.
"The people of Virginia are already ahead on this issue of workplace protections; the business community is already ahead on this issue and strongly supports it; it's the House of Delegates that doesn't," Parrish told Metro Weekly. "The delegates are only bending to fear when they say, 'I could support the nondiscrimination bill, except for gender identity and expression, because I can't have a man in a dress teaching schoolkids.' They're trapped in two cycles of gerrymandering where they're more concerned about a primary than the general election and the will of their constituents."
Parrish said the polling shows that members of the current House of Delegates do not represent a majority of Virginia residents, but noted that many are aided by a drop-off in voter turnout during Virginia's odd-year, off-year elections.

"This is not a partisan issue," Parrish said. "We definitely have more support from Democrats, but not all Democrats support our issues. And there are Republicans who support us. Sen. [Jill Holtzman] Vogel (R-Winchester, Loudoun, Fauquier, Stafford, Clarke, Culpeper, Frederick counties) was the reason the nondiscrimination bill came to a vote and passed with 24 votes."
But Parrish added he also expects the trajectory in favor of LGBT rights to continue, with levels of support moving upward, which he feels will eventually prompt some politicans to "get on board" with issues from nondiscrimination to marriage equality.
"The question is no longer 'if' Virginia is going to legalize marriage equality, it's 'when,'" Parrish said.
[Photo 1: HRC President Chad Griffin (courtesy of HRC). Photo 2: Del. Joseph Yost (courtesy of Virginia General Assembly). Photo 3: Sen. Jill Holtzman Vogel (courtesy of Virginia General Assembly).]