This year's Capital Pride headlining duo Icona Pop are on a tear, striking while the iron — aka that little ditty called "I Love It" — is still hot. Last week Aino Jawo and Caroline Hjelt released basic details about the Swedish pop duo's hotly anticpated debut album, This Is…, now set for for release Sept. 14. Icona Pop also released a new song, "All Night." Just as with the last attempt at a followup hit "Girlfriend," the new single is sweet and only marginally edgy, not nearly as bratty as the duo's breakthrough. But hey, at least it does sound like them, with that signature girl-power vocal sound.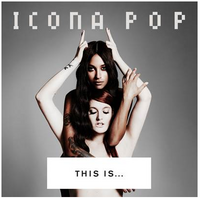 This Friday, Aug. 2, the duo kicks off its Iconic Tour with a stop at Chicago's Lollapalooza Festival. D.C. area fans who may have initially been disappointed that the tour won't be making a local stop received good news yesterday, when it was announced that Icona Pop will be among the nearly 20 acts at Virgin Mobile's Virgin FreeFest 2013, set for Sept. 21 at Merriweather Post Pavilion — that's one week after This Is… drops, meaning fans will be able to sing along to every song. This year's electronic dance music-heavy lineup at the FreeFest — and not just on the separate "Dance Forest" stage — includes the great DJ/producer Kaskade, plus Pretty Lights, MGMT and CHVRCHES. Headliners are Robin Thicke — it's only too bad his "Blurred Lines" partner-in-crime Pharrell Williams won't join him — Vampire Weekend and the Avett Brothers.
FreeFest started out last decade as the two-day Virgin Mobile Festival at Baltimore's Pimlico Race Course, before organizers opted to make it a one-day free event at Merriweather, with the hope that attendees would donate time or money to fight youth homelessness (or you could pony up $49.50 for a "Freemium" ticket, with $10 of that going to charity). A nice reward for a noble cause. Tickets go "on free" — and do "sell" out quickly — to the public Friday, Aug. 9, at noon — though Virgin Mobile subscribers, past FreeFest attendees and even those who simply "friend" or follow Virgin Mobile on Facebook or Twitter can get a head start on Thursday, Aug. 8, at noon.