The first time Kushaba Moses Mworeko went to Texas, it changed his life. It was October 2009, and his first trip to the United States. He'd come all the way from Uganda to participate in an HIV/AIDS conference on South Padre Island.
At least, that was the official reason.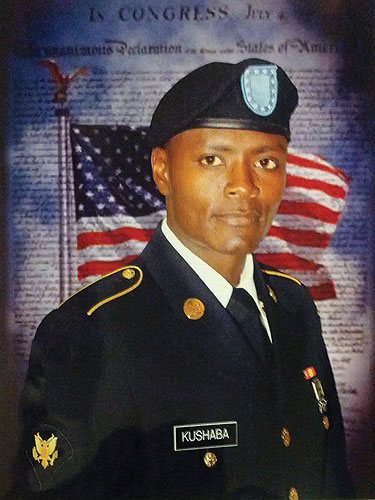 Spc. Kushaba Moses Mworeko
As legislators back home drafted a bill to make the already anti-gay nation more so – proposing the death penalty for "aggravated homosexuality" – Mworeko made plans of his own. As a gay man, he had decided to ask the United States for asylum.
A winding, asylum-seeking path took Mworeko to D.C., where he landed three months later, on his 31st birthday, Feb. 1, 2010. This July 4, however, finds Mworeko back in Texas.
Specifically, Mworeko is at Fort Sam Houston completing his National Guard training as a combat medic. In June, that training even included some LGBT pride.
"We had a briefing on what Pride is," Mworeko reported by phone from the base. "We got a message from the president talking about Pride month. They actually talked about Frank Kameny, his history, how he fought for his rights and how the government finally apologized."
Mworeko seems particularly proud at the inclusion of Kameny. After all, the late gay-rights pioneer hails from Mworeko's new hometown. After training, he heads back to D.C., enjoying his new identities as both an American and a Washingtonian.
"I love Washington, D.C.," Mworeko says with one of his signature laughs, a smile you can practically hear over the phone. "It's home. It's taken care of me. Washingtonians have sheltered me. I can never thank Washingtonians enough."
It would be hard not to think of Mworeko's new service to his new country as plenty of thanks. And while Mworeko feels certain he would be in a career helping people – with plans to earn a master's degree in social work when he returns from Texas – wherever he may have ended up, he says it is important to him that he came to America. Had that 2009 conference been in Canada or the U.K, for example, Mworeko says he would've pushed to get to the U.S. Some of that stems from his interactions with Americans when he did contract work in Iraq – an experience that's made him feel right at home in the National Guard.
"By going to Iraq, what I saw really influenced my goal of being in the military and helping people," he shares. "If I was in another country, I would probably still be pursuing my goal of helping people, but I would've still wanted to be American.
"When I talk to my instructors about my Iraq experience, they tend to look at me differently. They know, because I was there, that I know what happens there. I have an idea. So when they're talking about the experience to trainees about what happens in a war zone and how people are supposed to conduct themselves, all that stuff, they know that I know because I was there. That sets me apart."
Mworeko jokes that his accent also sets him apart, but it seems he wouldn't have it any other way.
"I don't think my accent will ever change," he says playfully. "My mother languages determine how I'm going to be speaking. I talk to my brothers in my native language, so it's difficult for me to change my accent. But I like my accent. It makes me different. And America is full of people from around the world, so this makes me a good American."
As Mworeko takes pride in the unique qualities he adds to the American "melting pot," he also speaks with enthusiasm about his role in the military, of being part of a team charged with defending the Constitution, the nation's democratically elected government, and his fellow Americans. And as Spc. Kushaba Moses Mworeko spends the Fourth of July marking his last day of two weeks of field training – "The fireworks will be there! It's the military." – it would be hard to argue that the U.S. made a mistake opening its doors to him.
"We've been raised differently, with different backgrounds, but the moment we put on that uniform, we are all the same," says Mworeko, a bit more seriously. "Whether you're from Uganda or you are born here, when you put on that uniform you are the same. You are not going to help your friends because you are white or you are brown or you are black. You are going to help your friends all the same way. It's one mission.
"We talk about 'We the people.' I'm part and parcel the 'We.' I am American. I am a patriot. I raised my hand to serve my country. This is my country. This is the country that's given me protection, that's given me the peace that I have. I am privileged."