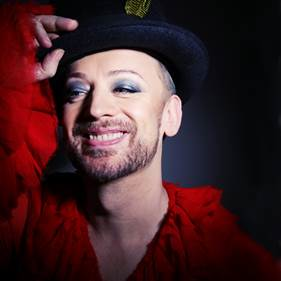 Boy George recently announced the upcoming release of what he is billing as his first "new studio album of original material in 18 years." Titled "This is What I Do," the set is expected on October 28, and will be followed by live dates in the UK (no word yet on American dates). The tracks were written by George along with collaborators John Themis, Kevan Frost and Richie Stevens (who have worked with artists as diverse as Tina Turner, Simpy Red, Soul II Soul as well as Culture Club). There is one cover, however, and it's an intriguing one — a take on the classic Yoko Ono track "Death of Samantha" from her "Appproximately Infinite Universe" LP.
Guesting with George on the project are DJ Yoda, Kitty Durham of Kitty Daisy & Lewis, Ally McErlain of Texas, MC Spree and Nizar All Issa. George is best known, of course, for his legendary run with '80s icons Culture Club, but he's also stayed busy with a solo career (including one of the most overlooked albums of the '90s, the brilliant "Cheapness & Beauty"). He's also worked on Broadway, with Taboo, and has been a successful DJ. He recently appeared in a memorably wistful and poignant recording with Mark Ronson and Andrew Wyatt, "Somebody to Love Me," from Ronson's 2010 "Record Collection" album. George also released in 2010 "Ordinary Alien," a compilation of collaborations with German dance producer Kinky Roland that had been recorded over an 8-year span.
The new set is being released on George's own label "Very Me" in conjunction with Kobalt, which has been very aggressive lately with new signings – they scored big with the Pet Shop Boys' first release with the label, "Electric," and they also recently made waves by signing Prince to a collaborative deal.
As we await new material, here is one of Boy George's finest moments, from his 1995 album "Cheapness and Beauty" – the gorgeous and heartbreaking "Il Adore," followed by one of his all-time classic recordings with Culture Club, "Time (Clock of the Heart)," and his sublime collaboration with the Pet Shop Boys, "The Crying Game."