"There's so much going on in the seven days leading up to the 28th," says Terri Harris Reed of The George Washington University, referring to the 50th Anniversary of the March on Washington, which occurred Aug. 28, 1963.
"We were thinking about what we could do that contributed to that celebration/commemoration/conversation, but that was a little bit different," continues Reed, vice provost for diversity and inclusion at the university.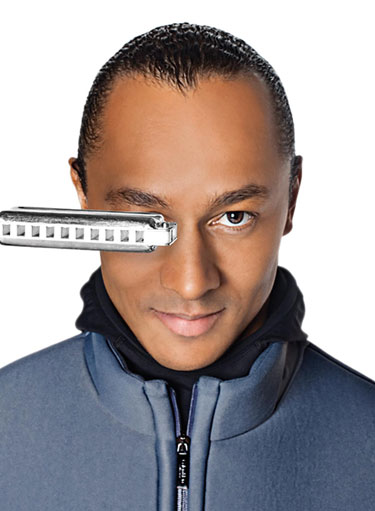 Frederic Yonnet
(Photo by Stephanie Pistel)
Organizers settled on a multimedia cultural arts program they're calling Soundtrack of a Movement: Freedom Songs in Perspective. The event's jumping-off point is the 2009 documentary Soundtrack for a Revolution. "This documentary took the history of freedom songs and the role they played in the Civil Rights Movement, and had contemporary artists having a conversation about not just history but current activism, and about how music and songs give people courage and a sense of unity," she explains. "Music has no color. It crosses boundaries and brings people together."
Excerpts from the documentary will be screened at the event, which will also feature civil rights leader Julian Bond, a central figure in the documentary. There will also be performances by spoken-word artists and poets as well as freedom songs performed by Patrick Lundy & The Ministers of Music with jazz harmonicist Frédéric Yonnet, who has toured with Prince and Stevie Wonder. Eddie Glaude of Princeton University will narrate the event. Glaude, says Reed, "talks a lot about the fact that we're still aspiring to be the democratic society that we laid out for ourselves. We've not yet achieved it."
Reed, who was only a toddler in 1963, sees the legacy of the March on Washington for Jobs and Freedom and the Civil Rights Movement every day. The first in her family to go to college, she says, "I believe that access to higher education is a key accomplishment of the Civil Rights Era. … My life's work has been tied to increasing access to college — not just to get in, but to be included."
Soundtrack of a Movement is Wednesday, Aug. 28, at 7 p.m., at Lisner Auditorium at The George Washington University, 730 21st St. NW. Tickets are free, reservations recommended. Call 202-994-6851 or visit lisner.org.