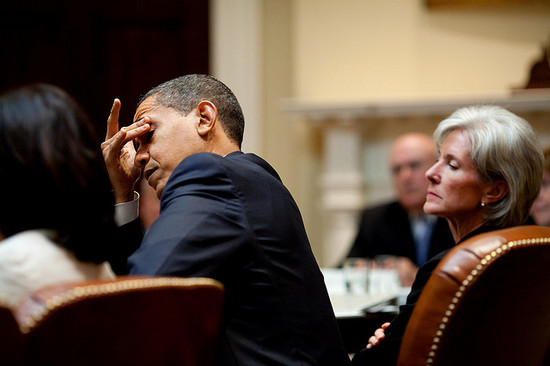 A bipartisan group of 86 members of Congress urged Department of Health and Human Services Secretary Kathleen Sebelius to accelerate the reevaluation of the nation's discriminatory ban on blood donations from men who have sex with men.
In a letter sent to Sebelius today, the group of senators and representatives stated that they are "deeply concerned" with the timeline the department is taking to reevaluate the current blood donation criteria for gay and bisexual men and requested information on the steps taken thus far.
"Since the beginning of the HIV/AIDS epidemic more than 30 years ago, the scientific community's understanding of the virus has changed dramatically," the letter reads. "We have seen vast advances in blood screening technology, blood donation policy changes in other countries allowing MSM to donate, and opposition from our nation's blood banks who have called the current ban 'medically and scientifically unwarranted.' Our current policies turn away healthy, willing donors, even when we face serious blood shortages. Further, the existing lifetime ban continues to perpetuate inaccurate stereotypes against gay and bisexual men, and fosters an atmosphere that promotes discrimination and discourages individuals from seeking HIV testing and treatment services."
Leading the latest push are Sens. Tammy Baldwin (D-Wisc.) and Elizabeth Warren (D-Mass.) as well as Reps. Mike Quigley (D-Ill.) and Barbara Lee (D-Cali.). Sen. Mike Enzi (Wyo.) was the only Republican to sign onto the letter.
The letter pushing for a prompt end to the lifetime ban comes after the American Medical Association (AMA), the nation's largest physician organization, passed a resolution in June opposing the current policy as discriminatory.
"The lifetime ban on blood donation for men who have sex with men is discriminatory and not based on sound science," said AMA board member Dr. William Kobler in a statement after the vote was announced. "This new policy urges a federal policy change to ensure blood donation bans or deferrals are applied to donors according to their individual level of risk and are not based on sexual orientation alone."
Moreover, in 2010, a non-partisan committee convened by HHS also concluded that the policy should be changed. And while HHS has continued to evaluate ending the ban, slow movement has frustrated advocates, and now members of Congress.
In a report issued earlier this week, HHS detailed the department's "strides toward improving the health and well-being of LGBT individuals, families, and communities," but made no mention of the continued blood ban.
"I am very proud of the strides that HHS has made to ensure equality for the LGBT community," said Sebelius said in a statement announcing the report. "Today's report details the department's unprecedented commitment to the health and well-being of LGBT Americans, and I look forward to helping strengthen that commitment."
[Photo: Barack Obama and Kathleen Sebelius. Credit: Official White House Photo by Pete Souza.]
Read the full letter here: