Locals aren't the only ones who said goodbye to the DC Cowboys when the gay dance troupe's 18-year run came to an end in 2012. These high-stepping entertainers made a name for themselves across the country and around the world. By the end of nearly two decades, the troupe had seen 82 cowboys raise thousands of dollars for various organizations by collectively executing 455 performances.
"I had no idea we'd performed that many times," says Kevin Platte, who led the DC Cowboys through those years. Platte made this tally recently at the request of another hometown treasure, they Smithsonian Institution's National Museum of American History.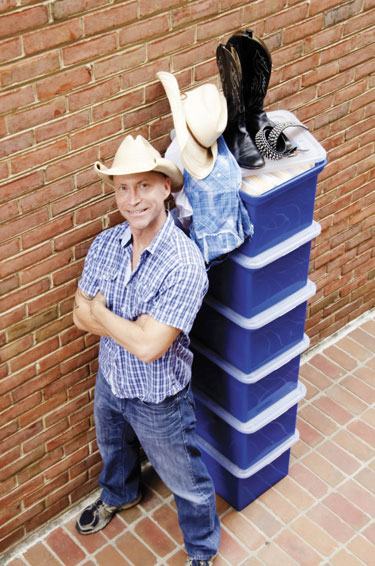 Kevin Platte with DC Cowboys' Smithsonian donation
(Photo by Julian Vankim)
"They called me out of the blue and wanted to meet with me," Platte says of a process that began months ago. "I was honored and surprised, went down to the museum and met with archivists."
Those archivists are now set to have another meeting with Platte, Aug. 20. That's when a team will arrive at Platte's home to collect all the memorabilia – from tour itineraries and costumes to performance photos and fundraising calendars – he's stored over the years. Their job will be that much easier thanks to Platte's orderliness.
"The photographs really took the most time to organize," he says, explaining that for every photograph going to the museum he created a corresponding catalog card indicating the date, place and names of those photographed. "I wanted it done right. I couldn't have done this for 18 years without being organized. I didn't want to just give them a pile and say, 'Good luck.' It's been a labor of love. Getting everything out and organized by year was really a fascinating walk down memory lane. It really was kind of fun to go through it all. I didn't mind doing it at all."
While Platte enjoyed preparing the DC Cowboys' collection for the handover, there is no fear that he rekindled some sentimental need to hold on to these mementos. Platte says he's still got a few cowboy hats and belt buckles around the house in case he needs a tangible reminder of the DC Cowboys' celebrated run. Really, he and the other DC Cowboys he's spoken with about the donation are all excited about it, knowing these items will be preserved and available to researchers, as well as possibly appearing in some future exhibit.
"If it were to stay in my home, it does me no good. I've lived through the experience," Platte says sagely, explaining that just as the DC Cowboys shared themselves with audiences for years, this donation is a continuation of that that tradition. "This is an extension of that sharing, and extension of who we are and what we've done. I can't think of any better place than the Museum of American History." –Will O'Bryan
The National Museum of American History is located at 14th Street and Constitution Avenue NW. For more information, call 202-633-1000 or visit americanhistory.si.edu.