Mayor Vincent Gray (D) signed into law Tuesday afternoon two measures aimed at expanding opportunity and choices for District's LGBT community.
With Gray's signature, the JaParker Deoni Jones Birth Certificate Equality Amendment Act of 2013 and the Marriage Officiant Act of 2013 – both unanimously passed by the D.C. Council earlier this summer – will become law if, as expected, they pass the required 30-day congressional review period.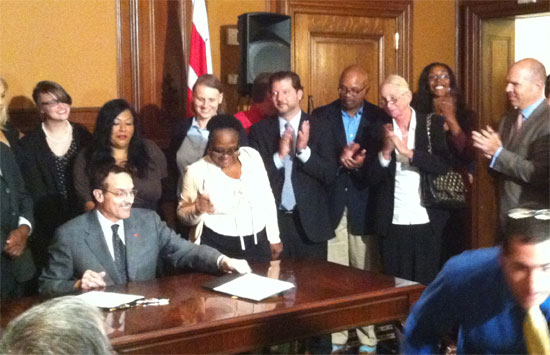 Surrounded by activists, Mayor Vincent Gray signed two pro-LGBT bills, the JaParker Deoni Jones Birth Certificate Equality Amendment Act and the Marriage Officiant Act, into law Tuesday afternoon.
(Photo by John Riley)
Surrounded by several members of the LGBT activist community; Councilmembers David Catania (I-At Large) and Tommy Wells (D-Ward 6), the lead sponsors of the bills; Councilmember David Grosso (I-At Large); and the parents of Deoni Jones, a Northeast D.C. transgender woman murdered in 2012, in whose memory the birth certificate bill was named, Gray signed both bills, saying they would "make the District of Columbia an even more inclusive city."
Congresswoman Eleanor Holmes Norton (D-D.C.), a longtime LGBT-rights supporter, was also present, though she was not among those activists who surrounded Gray and received, as a memento, the pens he used to sign the bills.
The birth-certificate bill, once it passes the 30-day review, will allow transgender residents to obtain new birth certificates with their correct gender, name and other personal information, with the new certificates not indicating they have been altered. The law also eliminates the requirement for any District resident – regardless of sexual orientation or gender identity – to publish proposed name or gender changes in a general-circulation newspaper for three consecutive weeks.
Many transgender advocates claim that otherwise qualified individuals have been rejected for jobs when potential employers have asked to see their birth certificates, which may not agree with presented gender or may be marked "Amended."
Gray cited statistics from the recently released 2011-2012 D.C. Transgender Needs Assessment, which found that 44 percent of transgender District residents have been denied jobs for which they were qualified, and 28 percent were denied housing due to their gender identity.
"By signing the Birth Certificate Equality Amendment into law, my administration continues to meet the needs of all residents, so that they may work, live and thrive in safe communities, free from stigma and discrimination," Gray said, hailing the bill as model policy for other jurisdictions to emulate. "I'd like to think of us as one of the most forward-thinking jurisdictions in the nation. … I'm glad the District of Columbia is in the forefront, rather than having to tag along behind the rest of the nation in doing the right thing."
Catania, the birth certificate bill's lead co-sponsor, addressing those gathered, cited the provision in the bill that allows D.C. residents born elsewhere to obtain a court order to have their non-D.C. birth certificates amended and to have issued new, unmarked copies.
Catania also invoked the memory of Jones, the bill's namesake, praising her parents for advocating on behalf of LGBT rights even after Jones's violent stabbing death at a Northeast D.C. bus stop a year-and-a-half ago. A Washington man, Gary Niles Montgomery, has been charged in Jones's death with one count of second-degree murder while armed.
"This is really a celebration of the life of JaParker Deoni Jones," Catania said of the bill signing. "She was taken from us, by a person who still awaits trial, and, like all Americans, is entitled to due process. But I hope we keep attention on what happens with Gary Montgomery, and we hope that justice is served."
The marriage-officiant bill, once enacted, will expand the types of people – including the mayor, councilmembers, civil celebrants not affiliated with a particular religious group, or even couples themselves – who are authorized to solemnize marriages. The bill was a legislative priority of the Gay and Lesbian Activists Alliance (GLAA), particularly the group's president, Richard J. Rosendall, and former president and treasurer Bob Summersgill, who both testified on the bill's behalf.
Under the new law, anyone meeting specific D.C. Official Code requirements and who pays a nominal registration fee may become a "temporary officiant," able to solemnize a particular marriage in the District.
"I'm glad we're able to do this today," Gray said. "I'm glad we're able to sign both bills, because they embrace, embody and communicate fundamental rights that we are affirming here in the District of Columbia."
As he finished signing the bills posing for photos with guests, Gray took one last look at the assembled audience and said with a small smile, "It's a great day in the District of Columbia, isn't it?"