Did you know Barbra Streisand built an underground shopping mall at her Malibu, Calif., home? The stores display the many clothes and collectibles she's acquired over the decades.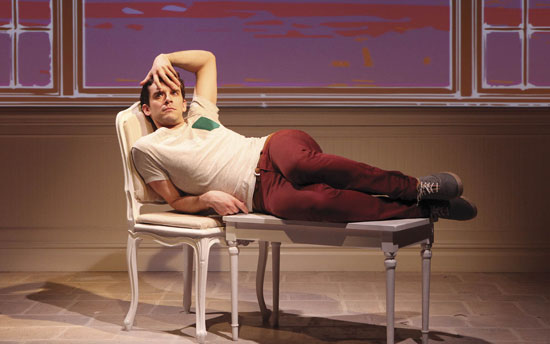 Buyer and Cellar: Michael Urie
(Photo by Sandra Coudert)
No, that is not a joke. Playwright Jonathan Tolins took that little factual detail, as revealed and documented in Streisand's 2010 book My Passion for Design, and ran with it, creating a whole one-man show exploring what it might be like to work for her down there. The result, the hilariously entertaining — but also touching — Buyer & Cellar, is as imaginative as you might expect, but it's also utterly realistic. Everything that transpires just seems so plausible, and so true to what we know of Streisand as a celebrity and as a human being. Aiding the cause is actor Michael Urie, probably best known as Marc St. James from ABC's Ugly Betty. Urie plays Alex More, an out-of-work actor hired to work in Streisand's basement mall. He eventually becomes chummy with his "best customer" Streisand — so much so that he helps her rehearse scenes from Gypsy, as she hopes to take on the role of Mama Rose (or "Grandma Rose," in the hilarious assessment of More's boyfriend).
As a one-man show Urie portrays all the characters — though he never changes his outward appearance, sporting the same boyish good looks as well as T-shirt and jeans throughout. Urie is so particularly good at channeling the mannerisms, even the spirit, of Streisand that to put him in any kind of drag would have ruined the experience. Tolins, you see, elevates his exercise in diva worship here — because at heart, that is what Buyer & Cellar is — by keeping it above the plane of caricature. Streisand naturally comes in for her share of criticism — Hello, we are talking about a woman who built a mall in her basement! — but it's all out of love. Urie touchingly portrays her as a living, breathing human being, one in serious need of human connection and simple kindness.
You just want to give her a hug.
Buyer & Cellar runs to Dec. 29 at New York's Barrow Street Theatre, 27 Barrow St. Tickets are $75 to $95. Call 212-868-4444 or visit barrowstreettheatre.com.