A county clerk in New Mexico announced Wednesday that he would start issuing marriage licenses to same-sex couples in what is the latest development in years-long saga regarding the state's ambiguous marriage laws.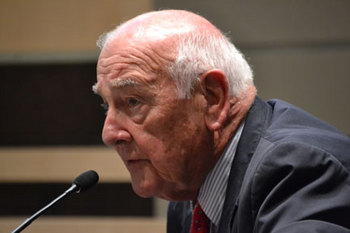 Doña Ana County Clerk Lynn Ellins said after carefully examining the state's marriage laws he has determined that they are gender neutral and that same-sex couples are permitted to marry in New Mexico.
"Any further denial of marriage licenses to these couples violates the United States and New Mexico Constitution and the New Mexico Human Rights Act," Ellins said in a statement obtained by the Associated Press. "Dona Ana County is upholding New Mexico law by issuing these marriage licenses, and I see no reason to make committed couples in Dona Ana County wait another minute to marry."
New Mexico is the only state in the nation that does not recognize nor prohibit recognition of same-sex marriages, which has led to a long history of challenges to New Mexico's ambiguous marriage laws. On Feb. 20, 2004, the clerk in Sandoval County, N.M., issued marriage licenses to 64 same-sex couples before ordered to stop by the state attorney general. Since that decision, county clerks have not issued marriage licenses to same-sex couples and the state has been vague about whether state law permits same-sex marriage, leading advocates to take their fight to the courts and Legislature.
In March, Santa Fe Mayor David Coss and City Councilor Patti Bushee announced that they would sponsor a resolution calling on county clerks across the state to begin issuing marriage licenses to same-sex couples and a series of lawsuits seeking to legalize same-sex marriage have been pending in the state.
In July, shortly after the Supreme Court struck down the federal government's definition of marriage as between a man and a woman, the American Civil Liberties Union (ACLU) and the National Center for Lesbian Rights (NCLR) announced a new effort to go directly to the New Mexico Supreme Court to clarify the state's vague marriage laws. Earlier this month, New Mexico's highest court denied that request in order to allow lower courts to consider the issue first. The New Mexico Supreme Court has now been asked to consolidate all cases regarding same-sex marriage in the state in order to get a prompt lower-court decision and take the issue to the high court.
[Photo: Lynn Ellins courtesy of the Democratic Party of Doña Ana County.]