K. Murry Johnson secured a great quote from the noted African-American novelist James Earl Hardy for the book jacket of his self-published debut novel.
"An epic, emotionally wrenching, groundbreaking story that will have you shedding both tears of joy and horror," wrote Hardy, author of the popular B-Boy Blues series, about Johnson's Image of Emeralds and Chocolate. "An engrossing, impressive debut."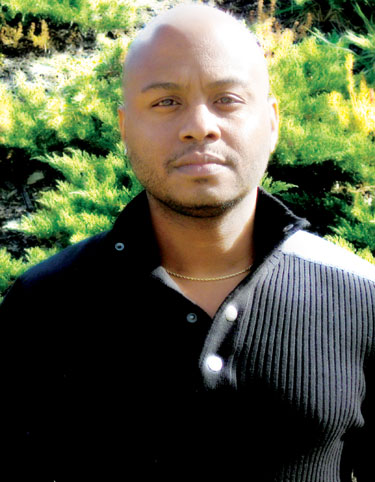 K. Murry Johnson
Certainly the book seems a prime target for wider appeal. Johnson's tale, initially inspired by the late E. Lynn Harris, took shape after Johnson saw the original Twilight movie. "During that movie, I thought, 'You know, what would shake up the black-gay-love-story genre is if I added a vampire to the story." Though Johnson feared it would hardly be a novel idea. "I'm surprised no one has ever tried to use a backstory about a vampire [as a former] slave."
In that sense Johnson says the book is as inspired by Forrest Gump as it is Twilight, as we jump through time with the vampire character, Marquis LeBlanc, meeting important historical figures, from Frederick Douglass to Martin Luther King Jr. to Barack Obama.
"He's actually trying to help the plight of African-Americans in this country throughout Reconstruction and civil rights." Obviously, the historical aspect demanded its own attention to detail. "I did a lot of research on all of these things to make sure I was being historically correct," Johnson says, from word usage to scenery descriptions to even the little-known reality of the rape of male slaves by their masters. "It happened," says Johnson, "but nobody ever talks about it."
Growing up just outside New Orleans, Johnson never fancied himself a writer. "I actually hated writing," he remembers. "I didn't get a love for writing until my freshman year of college." Instead, before he took creative writing classes at Loyola University, Johnson was focused on music and performance, with the clarinet his instrument of choice. It's a key reason the book's main character, Eric Peterson, is a musician.
Johnson, who came out when he was only 16, first became a fan of E. Lynn Harris as a senior in high school. At that time he was told he was too young to be part of a black social group at the gay and lesbian community center in New Orleans, but they recommended Harris's Invisible Life. "I looked at the cover and I was like, 'This doesn't look that interesting," he says now, about a cover featuring a woman watching as another man lusts after hers. But once he finally gave it a chance, he couldn't put the book down, reading it all in one day — almost all in one setting, on the bus ride home from school.
The 35-year-old Johnson, who now lives with his partner Khadish Franklin in Arlington, would love to make writing his full-time career. He's about a quarter of the way through a sequel to Image of Emeralds and Chocolate, and he intends to make the series a trilogy. "The trick is getting enough time to write another book," concedes Johnson, who currently works in information technology to pay the bills. He credits Franklin for helping him with his creative endeavors, calling him his "right-hand person" for everything from book research and editing to marketing and promotion.
And it's the marketing and promotion that has consumed Johnson's time since he published his book way back in January 2012. "Being self-published, I still feel like I haven't scratched the surface. There are still a lot of people that don't know about the book." It's a key reason why Johnson is participating in OutWrite. He'll read from Image of Emeralds and Chocolate on Saturday, Aug. 3.
"When people hear about this book, and when they read the book, everybody likes it," he asserts. "It's just getting the word out."
K. Murry Johnson reads from Image of Emeralds and Chocolate as part of the OutWrite LGBT Book Fair Saturday, Aug. 3, at 5 p.m., at the Reeves Center, 2000 14th St. NW.