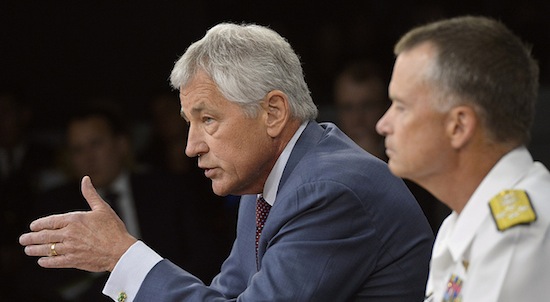 Same-sex families will receive equal treatment by the military in less than one month's time, the Pentagon announced Wednesday.
In a memo dated Aug. 13 to the secretaries of the nation's military branches, Defense Secretary Chuck Hagel wrote that the Defense Department has moved to extend benefits, including marriage leave for travel, to legally married same-sex military couples in compliance with the Supreme Court's June decision striking down Section 3 of the Defense of Marriage Act.
"The Department has begun the process of implementing the Supreme Court's decision in consultation with the Department of Justice and other executive branch agencies," Hagel wrote, stating that the process will be completed no later than Sept. 3. "It is now the Department's policy to treat all married military personnel equally. The Department will construe the words 'spouse' and 'marriage' to include same-sex spouses and marriages, and the Department will work to make the same benefits available to all military spouses, regardless of whether they are in same-sex or opposite-sex marriages."
The implementation of benefits will be led by the acting under secretary of defense for personnel and readiness, Jessica Wright, and comes nearly two years after the repeal of "Don't Ask, Don't Tell." According to additional guidance offered by Wright, entitlements are retroactive to the date of the Supreme Court's ruling in the Windsor case, June 26. Claims to entitlements before that date will not be granted.
Notably, the Pentagon will also begin granting gay servicemembers wishing to marry up to 10 days leave in order to travel to a jurisdiction that recognizes same-sex marriage, effective immediately.
"We recognize that same-sex couples not stationed in a jurisdiction that permits same-sex marriage would have to travel to another jurisdiction to marry," Hagel wrote. "Accordingly, the Department will implement policies to allow military personnel in such a relationship non-chargeable leave for the purpose of traveling to a jurisdiction where such a marriage may occur. This will provide accelerated access to the full range of benefits offered to married military couples throughout the Department and help level the playing field between opposite-sex and same-sex couples seeking to be married."
Servicemembers stationed in the continental United States at a location more than 100 miles from one of the 13 states or D.C. that recognize same-sex couples' right to marry may be granted up to seven days of leave to travel for their wedding. Those stationed abroad may be granted up to 10 days leave.
Hagel also announced that the department would scrap plans for the limited extension of benefits to same-sex couples announced by former Defense Secretary Leon Panetta in February, noting that following the Supreme Court's decision that plan "is no longer necessary to remedy the inequity that was caused by section 3 of the Defense of Marriage Act."
"The Department of Defense remains committed to ensuring that all men and women who serve our country and their families are treated fairly and equally," Hagel stated. "Expeditious implementation of the decision announced in this memorandum will help the Department remain true to that commitment."
[Photo: Chuck Hagel (left). Credit: Glenn Fawcett/DoD.]