"All I know about Alexander Graham Bell is I think he invented the telephone." Which is exactly what Jim Lehrer said after he was asked to write a play about the famous scientist and inventor who was also a founding member of the National Geographic Society. "He really is known mostly as the telephone man," says Lehrer, "but he's much more than that. He was an exciting, multifaceted genius."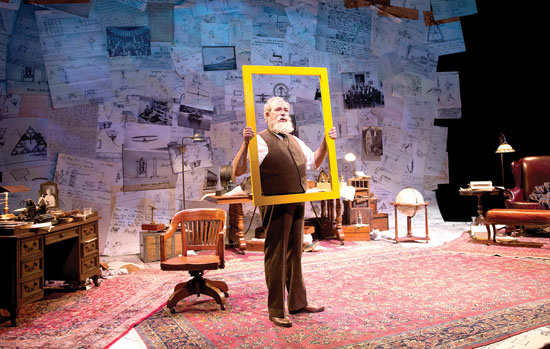 "Bell" by Jim Lehrer: Rick Foucheaux at National Geographic Live
(Photo by Sora DeVore)
The former broadcast journalist's new one-man play, Bell, was commissioned by the society to serve as the kick-off to the 2013-2014 season of National Geographic Live. The play is part of a yearlong commemoration of the world-renowned scientific organization's first 125 years. Directed by Jeremy Skidmore, Bell stars Rick Foucheux in the title role. "He's a terrific guy and a fabulous actor," says Lehrer, who never gave any thought to taking on the role himself. "Oh, my God, no, I'm not an actor. I was a quote-performer-endquote, but as a journalist first, performer second," Lehrer says of the 35 years he served as a nightly news anchor on PBS's NewsHour with Jim Lehrer.
Jim Lehrer
(Photo by Larry D. Moore via Wikimedia)
Lehrer is better known as a novelist than a playwright, having written 20 books, including the forthcoming Top Down, a work of fiction based on Lehrer's experiences as a Dallas newspaper reporter covering the 1963 assassination of President Kennedy. While toying with the idea of next writing a third memoir, the man who retired from television in 2011 is sure his broadcast days are over.
"I really don't miss it," he says, adding, "I really always wanted to be a full-time writer. And now I am."
Bell runs to Sept. 21, at National Geographic Society's Gilbert H. Grosvenor Auditorium, 1600 M St. NW. Tickets are $30. Call 202-857-7700 or visit nglive.org/bell.