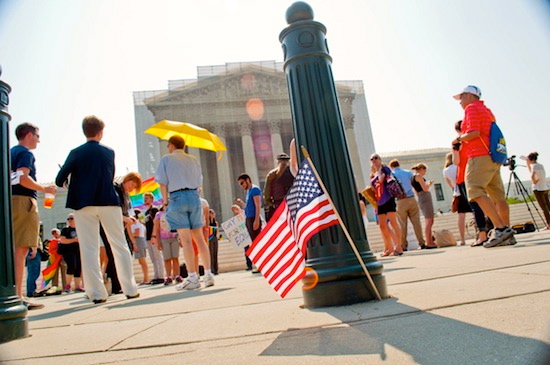 A New Jersey judge Friday ordered state officials to begin performing same-sex marriages beginning October 21.
In a ruling that directly cited the Supreme Court's decision striking down Section 3 of the Defense of Marriage Act, Superior Court Judge Mary Jacobson declared same-sex couples "must be allowed to marry in order to obtain equal protection of the law under the New Jersey Constitution."
Jacobson's ruling sides with the platintiffs in the case, brought by Garden State Equality and Lambda Legal, who argued the Supreme Court's broad June ruling in the Windsor case had thus led to the denial of equal protection to New Jersey same-sex couples in civil unions.
"Whereas before Windsor same-sex couples in New Jersey would have been denied federal benefits regardless of what their relationship was called, these couples are now denied benefits solely as a result of the label placed upon them by the State," Jacobson wrote. "The ineligibility of same-sex couples for federal benefits is currently harming same-sex couples in New Jersey in a wide range of contexts."
Jacobson said inequality would only increase as a number of federal agencies have extended benefits to legally married same-sex couples while deeming civil union partners ineligible. In 2006 the New Jersey Supreme Court ruled the state could not deny same-sex couples rights and benefits, but did not rule the state must permit same-sex marriage. Soon after, the state Legislature voted to permit civil unions.
Although Jacobson's ruling essentially legalized same-sex marriage in the Garden State, it is expected to be appealed by the administration of Gov. Chris Christie (R), which could delay same-sex nuptials. The ruling marked the broadest citation of the Supreme Court's DOMA decision to date, and the first time a court has struck down a state ban on same-sex marriage as a direct result of the Supreme Court's ruling.
As this case now works its way through the courts, efforts to legalize same-sex marriage through the enactment of legislation continue. Six years after New Jersey began permitting civil unions for same-sex couples, the state Legislature approved marriage equality legislation in February 2012, only for Chrisite to veto that bill under the argument that same-sex marriage is an issue that should be decided by voters at the ballot box.
Advocates have been working to override Christie's veto before the end of the legislative session in January. The Star-Ledger reports 12 more votes are still needed in the Assembly and two more in the Senate to do so. Earlier this month, two Republican members of the Assembly broke with Christie to declare they would vote in favor of marriage equality.
Read the ruling here: