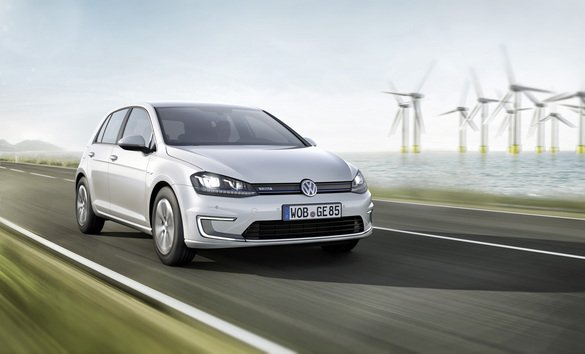 In the market for an electric car? The Nissan Leaf too bland, the Tesla Model S too expensive, and everything else too mediocre? Well, dear citizen, we have something that'll please your inner eco warrior. Volkswagen, maker of quality, reliable, suitably Germanic cars, are finally getting into the electric-only market, and doing so with their most popular model — the Golf.
The Golf is Volkswagen's raison d'être, a car for everyone, that does everything a normal car owner needs their car to do. A true people's car. Well-made, comfortable, spacious, well-equipped, and refined over 35 years and 7 generations, the Golf is the go-to car for those looking for a hot-hatch, a family car, a comfortable commuter.
That Volkswagen are now offering one with zero emissions and zero fuel cost is just icing on a much loved cake. The e-Golf, as it's known, follows in similar footsteps to Nissan's Leaf — it's a car intended for city and suburb-dwellers who need a car for commuting short distances and the occasional longer journey. Powered by a 113 hp electric motor with 199 lb-ft of torque, the Golf has a reasonable 0-62mph time of 10.4 seconds. A GTI this isn't. A top speed of 87 mph and estmated 118-mile range round out its specs, but if that range seems a little short, Volkswagen have a solution.
The e-Golf's 24.2 kWh battery can be charged to 80% capacity in just half an hour at a dedicated charging station. Long road trips in the e-Golf could certainly be possible with several planned stops. From a normal wall-socket, the Golf takes 13 hours to charge to full, or 8 hours with an optional wall box charger.
The e-Golf is set to drop onto American shores in 2015, but Volkswagen are remaining tight-lipped on any pricing or lease schemes.