Sir Elton John has nothing left to prove. His status in the top tier of rock-and-roll royalty is unquestioned. His 31st studio album, The Diving Board, hit stores last week a full 44 years since his debut, Empty Sky. During the intervening decades he has released countless songs, many of them among the most classic recordings in rock history. Landmark albums like Goodbye Yellow Brick Road, Honky Chateau and even the more recent Songs from the West Coast, are essential. That said, some of his efforts – 1979's Victim of Love and 1986's Leather Jackets, for instance – are notorious, cringe-inducing embarrassments. Most of John's albums have fallen somewhere in between, and he's usually capable of a great single or two even if the rest of the album is mediocre. Alas, his latest effort fits somewhere among the lower rungs of his vast discography.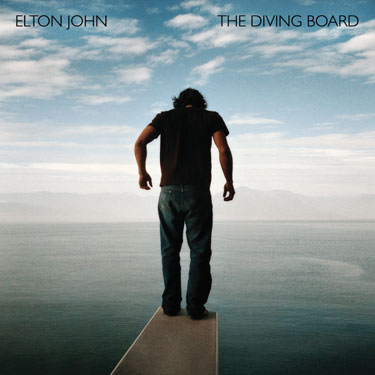 Elton John: The Diving Board
His first solo album since 2006's highly underrated The Captain & The Kid, The Diving Board is largely forgettable. John collaborates once again with lyricist Bernie Taupin, and the tone is generally downbeat and reflective. Producer T Bone Burnett stands back and lets the songs unfold in very basic fashion. The arrangements are mostly limited to John's vocals over prominent piano riffs, bass and drums. Burnett allows John to take center stage and the songs to stand up on their own without any superfluous elements, although there are occasionally string arrangements and some background vocals. This stripped-down approach may have worked better if the songs were more interesting, or if a memorable snatch of melody was anywhere to be found.
It's a shame, because it's a great setup for John, whose piano playing has always been the central component of his best work. It's also undeniable that his voice has degraded. He's 66 and his vocals have a deep, husky quality reflective of decades of use. That in itself wouldn't be a problem if the material was more compelling. Bob Dylan's voice is a sandpaper rasp, but his blood-drenched epic Tempest album was one of the finest releases of 2012. The problem with The Diving Board isn't John's less than agile voice, but the lack of interesting songwriting.
There are a few tantalizing moments that hint at what the album might have been. The first single "Home Again" is poignant and lovely – a high point where there are few to be found – and, yet when compared to other lead singles from previous Elton John albums, "Home Again" pales in significance. We're talking about an artist who, with his collaborator Bernie Taupin, has written and recorded the likes of "Tiny Dancer," "Your Song," "Goodbye Yellow Brick Road," "Candle in the Wind," and "I Guess That's Why They Call it the Blues." As recently as 2001 he delivered an absolute gem in "I Want Love," which at this rate may go down in history as the last great Elton John recording. The closest thing here may be "The New Fever Waltz," a late surprise that shows some signs of life, partially thanks to the lively string arrangement. The up-tempo "Mexican Vacation" has a little bit of spark and a hint of the old Elton John magic with the rollicking piano and his best vocal on the album. Of the numerous ballads, the haunting "My Quicksand" may be the finest moment. It's reminiscent of some of the grandiose material on John's eponymous second album.
ELTON JOHN

The Diving Board
Capitol Records
$11.75
Unfortunately, to reach those highlights one must wade through a lot of tedium. It's not that The Diving Board is embarrassing or in any way tarnishes his legacy; rather, it's just that the album ultimately feels unnecessary. Listening to The Diving Board simply makes one yearn to go back and replay one of Elton John's truly great albums. The songs have a numbing sameness to them. Perhaps the warning signs were there all along in that the album's release was reportedly pushed back multiple times so that John and Taupin could come up with additional material. Maybe they needed another six months. And perhaps, more importantly, it's simply unfair to compare John's current work to his finest moments. And yet, artists in his same range, such as David Bowie, Neil Young, Bob Dylan, Paul McCartney and others, are still delivering the goods. The Diving Board is a disappointment. Hopefully this is not the final word from Elton John, as The Diving Board is not a fitting swan song for a legend of his magnitude. He can do better.