"Without your fear, you can do anything," Russian singer Louisine Gevorkian shouts on her rock band Louna's blistering punk jam "Fight Club." Gevorkian also urges listeners to "embrace the pain" and join the fight.
The fight, of course, is against Russian President Vladimir Putin and his undemocratic policies, including his blanket crackdown on LGBT citizens. "In our country it looks like we're getting back to the Middle Ages," Gevorkian says, "when somebody is going to burn people who maybe don't believe in God, or are just different."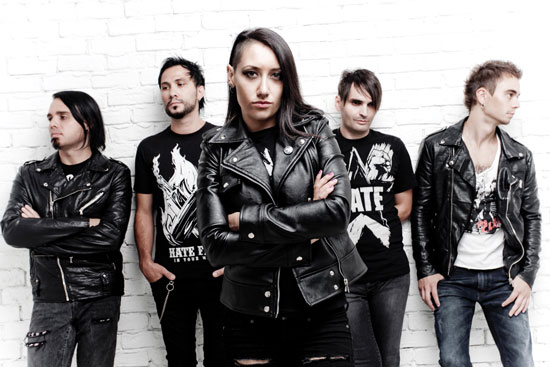 Louna
It was last year's convictions of the members of the anti-Putin feminist punk act Pussy Riot that first sparked national and international outrage at regressive Russian politics. "It was a shock to our society too," Gevorkian says. "Until this situation, everybody was sleeping."
Well, not everybody: The five-piece hard rock band Louna, named after its female lead singer, has been agitating against the government for a few years now. Louna never performed with Pussy Riot, whom Gevorkian distinguishes as "not musicians [but] performance artists." But the band did headline a concert in the summer of 2012 in protest of Pussy Riot's convictions that drew roughly 100,000 demonstrators. "The government is starting to see that in Russia there are a lot of people who are ready to fight for their rights," says Gevorkian. Gevorkian, who was weaned on American rock bands Linkin Park and Evanescence, says the band is touring – its first in the U.S. – "just to show that in Russia we have rock bands too."
Gevorkian doesn't offer specific advice for how Americans can join the fight against Putin's policies, and doesn't answer questions about the value of Americans boycotting Russian products. Ultimately, the fight needs to be homegrown to effect any real and lasting change. "For our government [it's about] quantity of people, of ordinary Russian people," she says. "The most useful way is when in every state and in every district of Russia they will come to the squares and they will show the government that they are not happy."
Louna opens for The Pretty Reckless Sunday, Nov. 3, at 7 p.m., at the Fillmore Silver Spring, 8656 Colesville Road, Silver Spring. Tickets are $24.50. Call 301-960-9999 or visit fillmoresilverspring.com.