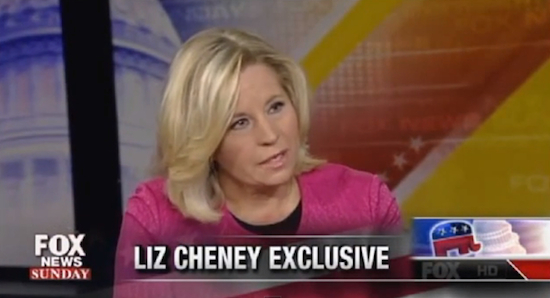 When Liz Cheney appeared on MSNBC in May 2009, where exactly she stood on the issue of same-sex marriage was anything but clear.
"My family has been very clear about this that we think freedom means freedom to everybody," said Cheney, whose sister, Mary, is a lesbian in a committed long-term relationship. It was a line her father, former Vice President Dick Cheney, had used discussing his support for marriage equality. Asked directly if she was a supporter of same-sex marriage, Cheney said she believed it was an issue that should be sorted out through the democratic process in the states and offered no personal opinion on the subject.
Appearing yesterday on Fox News Sunday, Liz Cheney was more clear. "I do believe it's an issue that's got to be left up to states. I do believe in the traditional definition of marriage." she said. "I love Mary very much, I love her family very much. This is just an issue on which we disagree."
Things have changed dramatically since 2009. There are now 15 states, plus D.C., that have legalized same-sex marriage. Later this week, Illinois will become the 16th when marriage-equality legislation is signed into law. A sitting U.S. president has openly endorsed marriage equality for the first time, and the nation's highest court has struck down the federal definition of marriage as between a man and a woman. In Liz Cheney's case, she is now a candidate for the U.S. Senate.
Since announcing her bid to as a Republican primary challenger to Sen. Mike Enzi (R-Wyo.), Cheney has voiced her opposition to same-sex marriage before, despite the fact that her sister married her spouse, Heather Poe, in June 2012 in D.C.
Yesterday, however, Poe shot back on Facebook:
I was watching my sister-in-law on Fox News Sunday (yes Liz, in fifteen states and the District of Columbia you are my sister-in-law) and was very disappointed to hear her say "I do believe in the traditional definition of marriage."

Liz has been a guest in our home, has spent time and shared holidays with our children, and when Mary and I got married in 2012 – she didn't hesitate to tell us how happy she was for us.

To have her now say she doesn't support our right to marry is offensive to say the least

I can't help but wonder how Liz would feel if as she moved from state to state, she discovered that her family was protected in one but not the other.

I always thought freedom meant freedom for EVERYONE.
Mary Cheney shared Poe's remarks, adding, "Couldn't have said it better myself. Liz – this isn't just an issue on which we disagree – you're just wrong – and on the wrong side of history." Mary Cheney had previously said her sister was "dead wrong" on the issue of marriage equality.
It's unlikely Liz Cheney's opposition to same-sex marriage will help in her fight to unseat Enzi, who is also opposed to same-sex marriage, and is leading Cheney in most polls by double digits.
[Image: Liz Cheney. Screenshot via Fox News.]