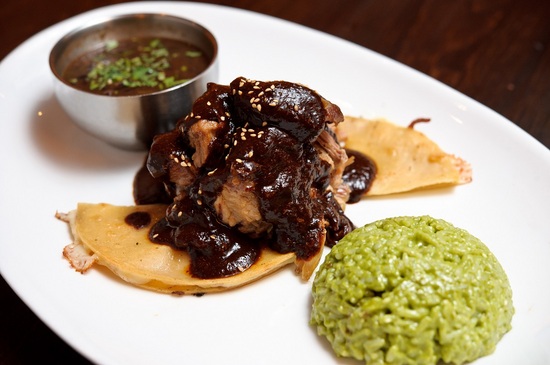 It happens to everyone. You catch a whiff of something cooking and it transports you to a different time and place. For me, it's the smell of fresh baking bread. I immediately remember my grandmother and the homemade yeast rolls she'd bake before every holiday dinner. For chef Richard Sandoval, the trigger is mole, a rich, pepper-and-spice-based sauce, with deep roots in Mexican cooking.
"Growing up in my grandmother's home in Mexico, I remember she would only prepare mole for very special dinner parties. Its sweet, rich and fragrant aroma brings back wonderful memories every time," says Sandoval, who's hosting a mole festival at his El Centro D.F. restaurants through Saturday, Nov. 30, with a special menu.
For this limited time, El Centrol D.F. is offering four mole preparations include the Mole Pipian from Mexico City, which has a slightly spicy blend of pumpkin seeds, tomatillos, chile poblano, and nuts served with chipotle rice and black bean puree; Mole Poblano from Puebla, which has complex and nutty flavors of spice, chiles, and Mexican chocolate served with Mexican rice, refried beans and sweet plantains; Mole Rojo from Oaxaca, which has a flavor profile of mild guajillo chiles, chile ancho, cumin and oregano served with cilantro rice, charro beans and a cheese corn quesadilla, as well as the Mole Negro from Oaxaca, which is medium spiced with nuts, charred tomatoes, avocado leaves and served with cotija rice and refried beans.
Guests can craft their own entree by pairing any of the moles with Pan Roasted Chicken Breast; Sautéed Jumbo Shrimp; Grilled Hanger Steak; Slow Cooked Pork Carnitas, or Market Vegetables.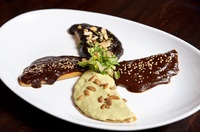 An excellent way to sample each of the moles is to order the Enmolada Quesadillas, a tasting plate of cheese quesadillas topped with each of the sauces.
To complement the mole dishes, El Centro D.F. is also offering some drink specials, or "bebidas," including a Habanero Blood Orange Margarita, tequila reposado, citrus, blood orange-habanero puree and garnished with a mole negro rim, and a Coconut Mango Mojito, Parrot Bay coconut rum, mango puree, simple syrup, fresh mint, lime wedge and club soda.
Sandoval takes much pride in cooking with mole at his restaurants because it is truly an "authentic and complex Mexican dish."
The special mole dishes are only available during dinner and range in price from $9.95 to $21.95.
El Centro D.F. has two locations in DC: 1819 14th Street, NW, 20009, (202) 328-3131; 1218 Wisconsin Avenue, NW, 20007, (202) 333-4100.