The mood of a franchise film matters. Consider the effect it can have on character, story and purpose. What would Christopher Nolan's Batman trilogy be without its suffocating gloom? Try to imagine the Harry Potter series without magical whimsy — or the darker threats each chapter adopted as it matured. You can't. One is inseparable from the other. The mood becomes the movie, refracting everything through itself.
A good franchise film needs a temperament that complements and enhances its story. The Hunger Games: Catching Fire does this very well. Maybe even too well. In spite of a pitch-perfect tone, the dystopian sequel doesn't quite dig into the questions it encourages. It's an almost-baked potato, stored inside a nine-figure warming dish.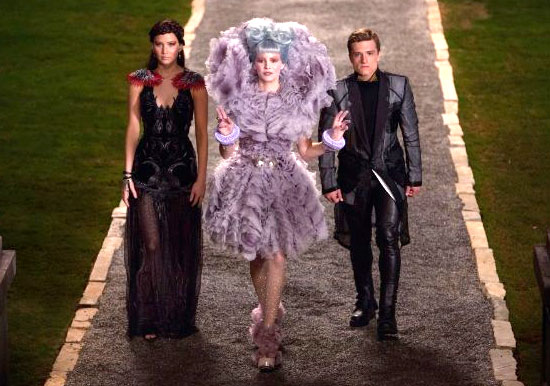 Hunger Games: Catching Fire
When we last saw Katniss Everdeen (Jennifer Lawrence), she had survived a sadistic annual ritual called The Hunger Games, which pits children against each other in a kill-or-be-killed reality-television show. The games are a tool of the dictatorial oppressor of Panem, President Snow (Donald Sutherland), who "reaps" two children from each of his country's 12 districts to assert power and dissuade revolutionaries. But Katniss, dear ponytailed Katniss, beat the system — and now she's a threat.
Catching Fire opens with Katniss back in her Appalachian home of District 12, still unable to digest the trauma of her recent past. She's due to go on a "victory tour" around the country, which means she'll have to abandon her friend Gale (Liam Hemsworth), and face Peeta (Josh Hutcherson), the doe-eyed boy she saved and manipulated during the games. The public believes them to be star-crossed lovers, who would rather sacrifice themselves than kill each other. President Snow fears that their story — their true story, which creeps between the lines of tabloid coverage — could inspire a revolution.
Even before Katniss and Peeta are inevitably forced into another round of games, Catching Fire manages to pull off a rare trick among blockbuster sequels. It raises the stakes without undoing the purpose of the first, lesser Hunger Games movie, while developing new themes that foreshadow Panem's impending rebellion. When Katniss and Peeta tour the country, we're first shown the smoldering resentment of the lower class, then the grotesque opulence of the elite. Unlike in the first movie, the games aren't presented as a competition to win as much as they're a struggle to survive. Catching Fire deals with villains of bigger concern. True villains, not just muscled psychopaths who know hand-to-hand combat.
What makes Catching Fire succeed is its compelling thoughts about public performance, celebrity, media and society. This movie is largely concerned with the merits of sacrifice, as represented by Katniss and her allies. Is there a difference between individual and shared sacrifice? How do people change when they risk their lives for the greater good? When a person becomes a symbol, does she lose her inner self and agency? These are thoughtful, difficult questions that turn a mediocre dystopian fantasy into a self-actualized nightmare. It's jarring to see a blockbuster, in this day and age, grapple with such a complex philosophy. By the time Katniss actually steps foot into a new arena for the games, her mind is swirling with a conflict much more captivating than any sort of outrageous murder sport.
THE HUNGER GAMES: CATCHING FIRE



Starring Jennifer Lawrence, Josh Hutcherson, Woody Harrelson
Rated PG-13
146 minutes
Opens Friday
Area theaters
Catching Fire should've gone further, though. Director Francis Lawrence pulls off a difficult trick by baking subtext into this blockbuster, but it's done so subtly, it's drowned out by the movie's more bombastic moments. (That is, anytime it lingers on the dull love triangle between Katniss, Peeta and Gale.) Lawrence goes to great lengths to show the horrors of Panem, so why can't he own the message he so clearly favors?
Catching Fire isn't the most eminently quotable movie, but its missteps call to mind a pep talk given to Katniss: "You've given people an opportunity. They just have to be brave enough to take it." I'm glad for the opportunity to see this movie as it is, but I can't help but wonder how a braver version might have looked.