Of all the adjectives you could use to describe Beaches, the maudlin movie from 1988 starring Bette Midler as C.C. Bloom, it's doubtful "inspiring" would be one.
And yet inspiring is exactly what it was to a young Patina Miller.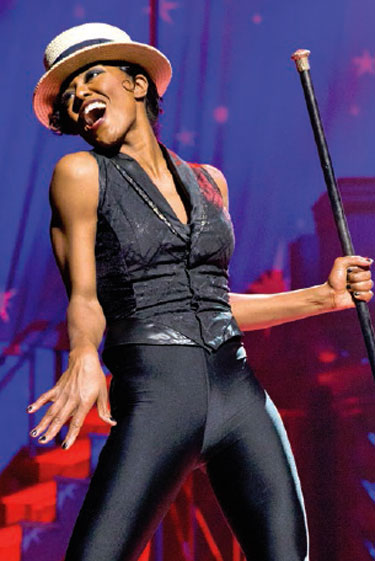 Patina Miller
(Photo by Joan Marcus)
"The scene in the movie where C.C. wants to go to New York and be a Broadway star," Miller says, "that kind of got me curious as to what New York was and what Broadway was."
Raised in a small town in South Carolina, Miller eventually earned a musical theater degree from Carnegie Mellon University. Earlier this year Miller won her first Tony Award, for Best Performance by a Leading Actress in a Musical.
"It's a dream come true for me," the 29-year-old says of her work in the Tony-winning revival of Stephen Schwartz's Pippin. "As an actor, I get to do everything that I've ever wanted to do in one show. I get to sing, act, dance and do little circus stuff." Miller stars as the charismatic, gregarious Leading Player, a role originally written for a man and famously played by Ben Vereen, who also won a Tony for the part.
The first Friday in December Miller takes a rare night off from the show for an event at the Kennedy Center, where last year she appeared in the Kander and Ebb revue First You Dream. "I'm really excited because it's my first solo concert professionally." The cabaret, part of the Barbara Cook Spotlight series, will find Miller singing songs from Pippin as well as Sister Act, for which she earned her first Tony nomination in 2011. But it will also include gospel, which Miller was weaned on, as well as pop. "It'll be a little bit of everything," she says. "I'm going to sing songs that people would not expect me to sing."
Next year Miller will make her Hollywood debut with a small part in The Hunger Games: Mockingjay Part 1. But don't worry, Miller reassures, "Broadway is my first love, so I'll always find ways to continue doing it." '
Patina Miller appears Friday, Dec. 6, at 7:30 p.m., at the Kennedy Center Terrace Theater. Tickets are $60. Call 202-467-4600 or visit kennedy-center.org. You can also see Miller in Pippin at Broadway's Music Box Theatre, 239 W. 45th St., New York. Tickets are $59 to $157.50. Call 212-239-6200 or visit pippinthemusical.com.