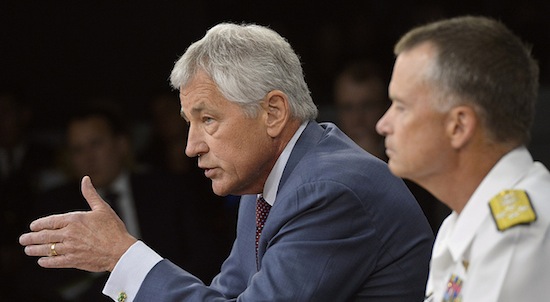 More than a month after Secretary of Defense Chuck Hagel ordered all states to come into compliance with federal policy, every state in the nation is now processing requests for benefits for members of the National Guard with a same-sex spouse.
In light of the Supreme Court's decision striking down Section 3 of the Defense of Marriage Act, Hagel announced in an August memo that the Pentagon would make the same benefits available to married same-sex couples as are available to married opposite-sex couples. However, a number of states defied the order, arguing that state bans on same-sex marriage prevented state installations from processing benefits for same-sex families.
On Oct. 31, Hagel announced in a speech at the Anti-Defamation League's centennial dinner that he had ordered the chief of the National Guard Bureau to meet with commanders in the states that were still denying the processing of benefits at state installations for same-sex military families. At the time, Texas, Indiana, Georgia, Florida, Mississippi, Louisiana, Oklahoma, South Carolina and West Virginia were all blocking benefits.
"Following consultations between the National Guard Bureau and the adjutants general of the states, all eligible service members, dependents and retirees – including same-sex spouses – are now able to obtain ID cards in every state," Hagel said in a Friday statement.
Mississippi became the last state to comply with Hagel's order earlier this week. According to a Pentagon official, Mississippi, along with Georgia, Louisiana and Texas, will place ID-card-machine operators in a temporary federal status to issue ID cards and enroll same-sex spouses in the Dependent Enrollment Eligibility Reporting System (DEERS). Meanwhile, Florida, Oklahoma and South Carolina have moved their ID-card machines to National Guard facilities on federal installations. Indiana and West Virginia are both processing ID cards and benefits requests at all National Guard facilities.
"All military spouses and families sacrifice on behalf of our country. They deserve our respect and the benefits they are entitled to under the law," Hagel said Friday. "All of DoD is committed to pursuing equal opportunities for all who serve this nation, and I will continue to work to ensure our men and women in uniform as well as their families have full and equal access to the benefits they deserve."
[Photo: Chuck Hagel. Credit: Department of Defense.]