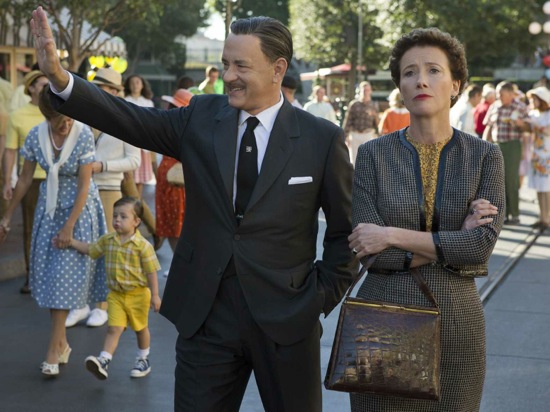 Saving Mr. Banks is the tale of how the legendary Walt Disney, after an arduous 20-year "wooing" process, finally wrested the rights to Mary Poppins from the overprotective clutches of its author, P.L. Travers. If that doesn"t sound utterly fascinating to you, you might want to give John Lee Hancock's movie a pass and instead revisit the 1964 classic, now out in a 50th Anniversary edition on bluray.
Hancock's film is an occasionally illuminating microcosm of the struggle that went into overcoming the protestations of the inflexible, unyielding Travers, who, among other things, insisted there be no musical numbers and absolutely no animation in the film. "Where is the gravitas?" she asks of increasingly beleaguered songwriters Richard and Robert Sherman after hearing one of their fetching ditties. (One of those ditties eventually wins her over, somewhat, lending credence to the theory that music tames even the most vicious beast.)
It's a good thing Disney quietly disregarded much of the persnickety author's wishes — including the impossible edict that the color red not be deployed anywhere in the film — or the resulting product might have been a rather glum affair indeed. Still, the vexing battle is a test for the mogul, portrayed with honest warmth and gentle buoyancy by Tom Hanks, and he wins Travers over with a keen understanding of what her fictional characters truly mean to her. That meaning is revealed in the flashbacks to Travers's Australian childhood, where we learn of her novel's true inspirations.
There are some lovely performances throughout, notably Paul Giamatti as Travers's Los Angeles driver, B.J. Novak and Jason Schwartzman as the gifted Sherman brothers, Ruth Wilson as Travers's haunted mother (one scene in particular is chilling), and Rachel Griffiths as her kind albeit no-nonsense aunt on whom the character of Poppins is drawn. But the film belongs to Emma Thompson, magnificent as Travers. Thompson plays exasperation to the hilt, and gets a fair share of laughs. But she gradually permits the author's brittle exterior to crack, revealing deep sorrow, vulnerability, and even affection, underneath. Much like Travers dominated Walt Disney and his writers, Thompson dominates every moment she's on screen. She's the best and, quite possibly, only true reason to see Saving Mr. Banks. Bonus: Stay through the end credits for a glimpse of the real Travers.
THREE STARS (out of Five). Rated PG-13. Area theaters.