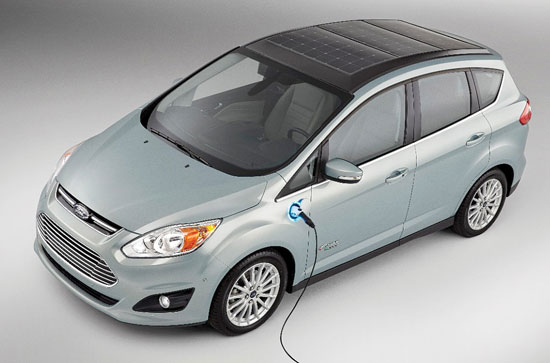 This week, the Consumer Electronics Show is in full swing down in Sin City, showcasing the hottest tech and gadgetry for the upcoming year, as well as looking into the future of where our digital world is headed. What, though, does this have to do with the automotive industry? Well, everything really. As automakers cram ever more technology into our cars, the vehicles that hit showrooms and the concept models designed to wow us with future design directions are increasingly becoming technological marvels. Consider that you can buy vehicles that park themselves, feature in-car WiFi, automatically brake in an accident and massage your buttocks as they stream music from the Internet through dozens of speakers, and it's not difficult to see the impact the tech world is having on car design. So much so, in fact, that marques are now offering their vehicles for display at CES, so confident are they in the forward-thinking nature of the technologies on offer.
Ford is no stranger to cramming tech into cars, with its SYNC infotainment system and myriad of hybrid options, but its latest concept features technology that really seeks to revolutionize the car world. The C-Max Solar Energi concept is a plug-in hybrid — of which there are many on our roads — that adds a little extra something into the mix: It seeks to free you, at least partially, from the plug. Spread across the roof of the compact minivan is a solar panel, featuring special Fresnel lenses that concentrate the sun's rays onto the solar cells contained within. Ford claims that a full day's worth of sunlight is equivalent to a four-hour plug-in charge, with the roof capable of tracking the sun's rays from east to west during the day to maximize intake. A full charge nets a 21-mile electric-only range, with the C-Max's gas engine boosting that to 620 miles.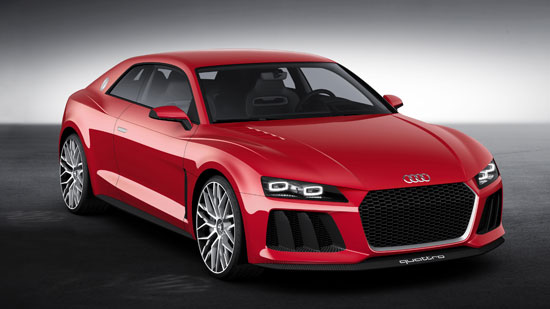 It's obvious that Ford's solar array won't fully replace the plug, but what they and the Georgia Institute of Technology, who helped develop the system, are doing is finding ways to maximize the green potential of current hybrids. By boosting its range during the day — say, while its owner is working and the car is in a parking lot — the C-Max could save an estimated four metric tons of greenhouse gases simply by reducing dependency on the plug socket and gas engine. Ford is continuing road trials of the technology to assess commercial viability, which, if successful, could mean cars as eager as we are to bask in the sun's rays.
Cars that debut at CES aren't always looking to change the world. Some are there simply to get our blood pumping. Audi knows this all too well, which is why it's chosen the Vegas show to debut its Sport "quattro laserlight" concept car. Yes, laserlight means exactly what you think. Audi's sexy concept utilizes a mixture of matrix LEDs and lasers, which combine to deliver incredible lighting performance. Casting their beams up to 1,640 feet in front of the car — that's four-and-a-half football fields — they have a range twice that of standard LED headlights.
The focus on tech continues throughout the car. Infotainment is handled by an Nvidia Tegra 30 processor that delivers high-resolution 3D graphics to a large screen in the dash, controlled through Audi's MMI interface. The Sport quattro also features a plug-in hybrid powertrain — but this is not your normal, fuel-saving setup.
Pairing a 560hp biturbo four-liter V8 with an electric motor that kicks out 110 kW of power gives the Sport quattro a total wallop of 700hp and 590 lbs-ft of torque, which means 0-60 in 3.7 seconds and a top speed of 189 mph. A Prius this isn't. All-wheel drive, light materials and short overhangs mean it'll make mincemeat of corners, and there's a Sport mode to give the driver every available drop of power. That the Sport quattro can also run for 31 miles in electric-only mode and achieve 94 mpg makes it even more remarkable. A green car for those with petrol in their veins, and an automotive love-letter to the benefits of marrying technology and motoring.