"I was always the one in the back of the bar," Joe Birdwell says. Up until fairly recently the 37-year-old lived a kind of shadowy existence, too inexperienced and too unsupported to engage beyond the margins of the leather and fetish communities.
But what you might call Birdwell's leather-lurking days are gone — long gone. Especially so now that he will spend the next year traveling and representing the country's second-largest leather event, the Centaur Motorcycle Club's Mid-Atlantic Leather, which last weekend packed leather and fetish lovers in by the thousands for its 30th edition. Last Sunday in a ballroom at the host hotel, the Hyatt Regency Washington on Capitol Hill, Birdwell became the fourth consecutive Mr. Pittsburgh Leather Fetish to win Mr. MAL. He bested three other candidates in the Sunday, Jan. 19, Mr. MAL 2014 contest: Jeffrey Williams of the Knight Hawks of Virginia; Omar L. Boots, Mr. Connecticut Leather 2014; and Thomas Ideux, the 1st Runner-Up to Mr. Maryland Leather 2014. Ideux was also selected as 1st Runner-Up to Mr. MAL 2014 by the contest's judges panel, which this year included Andy Cross, International Mr. Leather 2013; Joan Norry, American Leatherwoman 2008; and two Mr. DC Eagles — 2009's John Harris and 2013's Nigel Williams.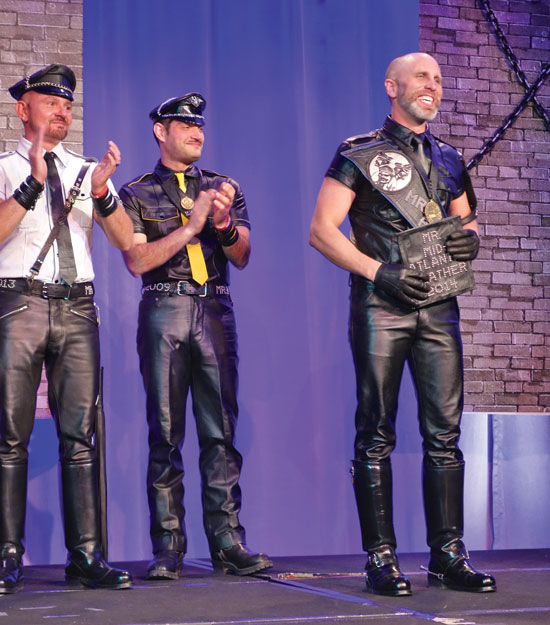 Mr. Mid-Atlantic Leather 2014
(Photo by Todd Franson)
"Once again everything went well. There were no major issues at all," Patrick Grady, the longtime chair for the event, said Monday. "It was hugely successful," he added, noting the many positive comments posted to various social media accounts and also a seeming increase in attendance — from "a lot of younger people" to first-time, middle-aged MAL attendees to new leather/fetish clubs represented at Saturday night's formal Leather Cocktails.
And then there's the always-busy nature to the Hyatt's common areas, particularly the lobby. While all that hustle and bustle might have overwhelmed some, Grady found it stimulating: "All those people in the lobby, there's just a vibe of energy. Goodness gracious! The lobby was just packed all the time."
Mr. MAL 2013 Bryce Caine — who also served as a judge this year — gave a moving step-down speech, ending with a call for greater respect in all forms. In an interview immediately after the contest, Birdwell echoed Caine's plea for more respect, and proceeded to give specific credit to Caine and his other Steel City title-holding predecessors from Pittsburgh. The Tennessee-raised Birdwell, an architect now based in Tampa, Fla., says he became active in the leather community precisely because of the encouragement of the many mentors he found while living in Pittsburgh's "supportive community."
He hopes to do the same for other leather newcomers: "Helping people is a big thing for me."