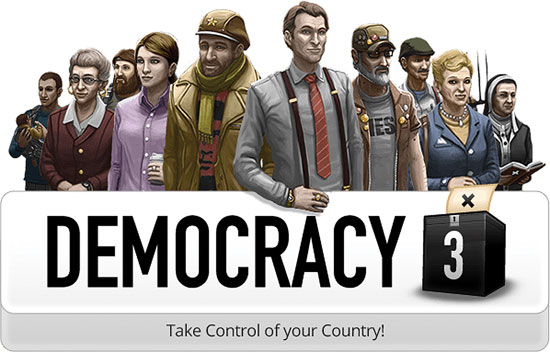 Given my nation of birth, Britain, it could be expected that my personal politics would be heavily influenced by the ethical socialism that proved popular in the 20th century. I do, however, draw several of my influences from American idealism, and the notion of the American Dream. Using capitalism and the benefits of a free market economy to better one's self, regardless of status, is an empowering ideal. However, while sharing a common language, our two nations vary greatly — which made the fact that I'd just chosen to be President of the United States all the more daunting. How would my British political upbringing influence my control of the most powerful nation on earth?
As I took office, the situation was somewhat dire. GDP was in the toilet, the overall standard of health was poor, unemployment was moderately high and there were pervasive levels of crime. The national spending deficit was $203 billion, while national debt sat at $3.3 trillion. My 316 million citizens lived with numerous threats to their health and well-being: there were vigilante mobs taking the judicial system into their own hands, anti-social behavior was rife, internet crime was ruining the digital sphere and alcohol abuse and drug addiction were reaching epidemic levels. This all combined with an uncompetitive economy, a strong skills shortage, high levels of homelessness and years of unrestricted environmental policies producing record levels of pollution — which had created an asthma epidemic. All-in-all, the land of the free and the home of the brave was in a rather mixed state.
My first year was tough and my policies were strict. I raised the police force budget, granting the intelligence services enough money to construct a satellite network to heavily monitor every facet of criminal activity. I introduced stronger prisoner tagging to closely watch possible reoffenders. I subsidized youth clubs, to keep teens off the street, drafted child labor laws to keep students in school and doubled education spending, giving every student a laptop to enable better learning. Strong restrictions were placed on alcohol to reduce its consumption and sale, and the effects that alcohol abuse had on crime and health. (I later regretted this when it became near impossible to enjoy a gin and tonic.) A telecommuting initiative was enacted to reduce the pressure on the road network and to cut down on pollution — as a result, Los Angeles residents spent less time on notoriously clogged freeways, down to a mere nine hours per day. A debt protection law helped those affected by dodgy loan deals, but it didn't help my popularity. After the first six months, polls suggested only 38 percent would re-elect me.
The rest of the year, I placed focus on health, tripling the budget of all federal and state health programs into a nationwide, fully-funded health service — my British upbringing an obvious factor here. I received staunch opposition from capitalists and conservative members of society, but I proceeded unabashed. Unfortunately, the costs associated led to our national credit rating dropping from B to CCC — the wealthy were up in arms. As appeasement, I cut $100 billion from the military budget, balancing that by appointing a UN ambassador with a strong focus on foreign relations. Now patriots hated me. Being President is tough.
My first 365 days, however, ended on a positive note. Debt had risen to $4.2 trillion, but GDP and national health were rising, and my militant policing had led to an end of vigilante mobs and anti-social behavior, and crime as a whole was down. As a result, 62 percent would re-elect me. I savored a near-impossible-to-acquire martini.
I started my second year with a goal to improving the nation's finances. I closely studied my expenditure and income reports, and made my decisions. Income tax was cut by 7 percent, and in its place came a carbon tax, which proportionally taxed individuals and businesses based on their emissions. The reason was two-fold: it would reduce pollution, which would help the asthma epidemic, in turn leading to less coughing interrupting me during cabinet meetings. It would also raise significantly more money than income tax — the first three months alone saw a surplus of $404 billion on the balance sheet. This enabled a hybrid car initiative and the introduction of major fines for heavy polluters. The uncompetitive economy ended as productivity increased, which in turned raised GDP and bumped the credit rating back up to B. Sure, there was a stress epidemic due to healthier citizens working longer hours, but I'd just cut income tax so they could suck it up and keep working.
For the latter half of the year, I was pretty much coasting. America entered a state of crime-free utopia, with citizens able to freely walk the street at night. Of course, the human rights society was taking to radio to complain that my extensive policing hurt personal liberties, but a freedom of information act that guaranteed individuals wouldn't be spied on soon smoothed over that crack. I then noticed that creationism was still being taught in schools, which I swiftly cracked down on. Religious leaders branded me the devil, but, as the year drew to a close, evolution was the only acceptable teaching method for the nation's youth. I finished my second year as President feeling pretty smug. That ended when I was told my support had dropped to 57 percent.
My third year was focused entirely on health and education. A constant surplus led to free school meals for every student, strict regulations on children's food to combat obesity and increased funding for university students, with all fees paid and generous grants available for those who wished to enter higher education. Science funding was boosted, and I told leading scientists to construct a particle accelerator in America — I'll be damned if CERN was going to have all of the atom-smashing fun. That was followed by improved fuel efficiency standards to reduce dependency on fossil fuels and aid the continued fall in pollution levels nationwide — smog became plain ol' fog again. As the year drew to a close, things were looking good for next year's election. National debt had fallen to $3.4 trillion, we'd entered a period of high productivity, which was boosting business and trade, internet crime had been stomped out by intelligence services and 77 percent of the healthy, evolution-loving populace were willing to re-elect me. Now I just needed to avoid screwing everything up.
The last twelve months of my term were spent tweaking the work I'd carried out. I initiated cost-saving measures to boost credit ratings and reduced taxes to further improve my standing with the public. Yes, I was going for popular policies but I had an election to win. Inheritance tax was abolished and property tax reduced to under 1 percent, boosting the middle classes. I cut school expenditures to free up extra cash as the world entered recession, but was still able to have our rating upgraded to BBB. Winning!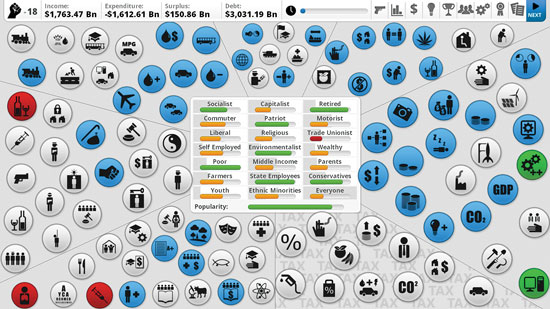 With 6 months to the election, support had fallen to 72 percent, so I went on a spending spree of efficient, headline-worthy policies. Free eye tests were introduced alongside subsidies for healthier foods — I refused to punish those who enjoyed fatty foods, but made it easier for them to choose a low-cost, healthy option instead. Arts programs were given heavy subsidies, which boosted culture and tourism nationwide with a raft of new entertainment and exhibits. I prepared for a future without fossil fuels with clean energy subsidies — and made sure to quietly ignore the angry calls flooding in from oil CEOs. Community policing was introduced to further improve relations in urban areas, and homelessness decreased to negligible levels as businesses continued to thrive. Our surplus stood at $150 billion and national debt was $3 trillion. I entered the election race with 86 percent of the public saying they would vote for me, staying laissez-faire in debates and appearances — merely pointing to the good work I'd enacted over the past four years.
Overall health was up 42 percent, I'd improved education by a fifth, crime was reduced 80 percent and poverty was down by a third. Nationwide productivity was up by a fifth and unemployment had fallen the same amount. We were a third more energy efficient as a nation and produced two thirds less carbon dioxide. The poorest in society earned 40 percent more than they had when I took office and national GDP was up 20 percent. I was, as President, crushing it.
Which, naturally, led to a landslide election victory. 182 million people chose me as their leader, with an embarrassingly low 21 million for my opposition. The smug factor was increased by the 113 million who hadn't voted, meaning I'd been elected by a true majority of the population. Despite my many controversial policies — national health service, new taxes, reduced military spending, contempt towards religion in schools — I'd somehow managed to win over most of the populace, taking a British upbringing and a love of American idealism and combining them into an incredibly successful first term. I checked my political spectrum and was told I was a liberal capitalist. Perfect.
And with that, I left the excellent menu structure of Democracy 3, with its intuitive, text- and icon-based navigation, its humorous slant on political simulation, its numerous charts and graphs and its myriad of options and policies, and went to bask in the glory of the greatest one-term Presidency in history. I may return to complete my second term, or take on the challenge of running Germany, or Canada, or my home country, or even try managing America from an extreme conservative standpoint, but for now I'm just happy to have been such a benevolent, measured President. A humble one, at that.
One question, though: where was Congress in all of this?
Democracy 3 is available on Steam for $24.99.